Access all areas at Coryton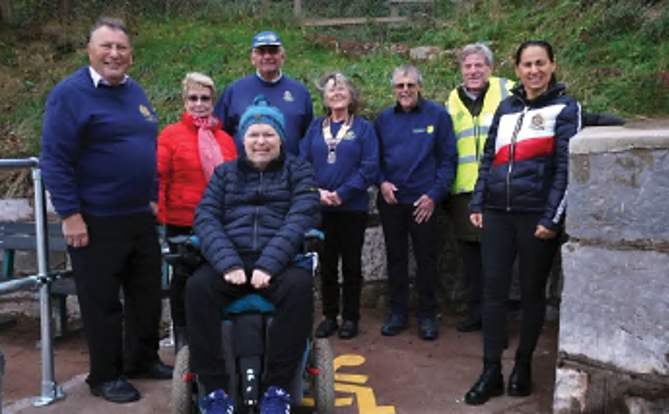 Peter Harrison president elect, Cllr Linda Petherick, CllrJohn Petherick, Ann Harrison president, Gordon Peacock, Rotarian Foundation, Ray Williams, Rotarian recruitment, Will's carer Marianne, and front, Will Harrison
Subscribe newsletter
Subscribe to our email and get updates right in your inbox.
For many years Coryton Cove, Dawlish, has provided an accessible platform for wheelchair residents and visitors.
At times though, visitors parked bikes and prams on this level, denying access to disabled users to the wonderful view across Coryton Cove and its beach.
There was no reason why they couldn't do just that. They were not to know disabled users needed and wanted to see family and friends enjoying this hidden gem on the Dawlish Riviera.
Cllr John Petherick, who is also a Rotary Club member, was looking for a project to celebrate his 74th Birthday. Having asked residents if there was an affordable asset he could organise and partially pay for, he chose to promote the need for disabled access at Coryton Cove.
He suggested to the Dawlish Water Rotary Club that this worthwhile project was something they could help to provide.
The club contacted Teignbridge Council's Coastal Officer, who agreed that this would be well worth considering.
After further discussion, it was agreed that if the Rotary Club would contribute 50 per cent of the cost of improving access onto the platform and providing safety railings and signage, Teignbridge Council would go ahead with, and complete, the work. The Rotary agreed to proceed, supplying whatever funds were required.
John Petherick raised money to support the cost by making a birthday appeal to the public which he donated to Rotary.
On Sunday, John and members of the Rotary along with wheelchair user, Will, officially launched the bay, much to the delight of residents and visitors.
As Rotarian Gordon Peacock, said: 'When you don't have a disability, you're not necessarily aware of the issues but, now I've seen this, what an excellent asset it has turned out to be.'
Anne Harrison, president of Dawlish Water Rotary, said she was very pleased with the bay: 'It's excellent and shows what great teamwork can do.' Peter Harrison added: 'It's a much needed provision.'
Comments
To leave a comment you need to create an account. |
All comments 0