Family's anger at funeral mix-up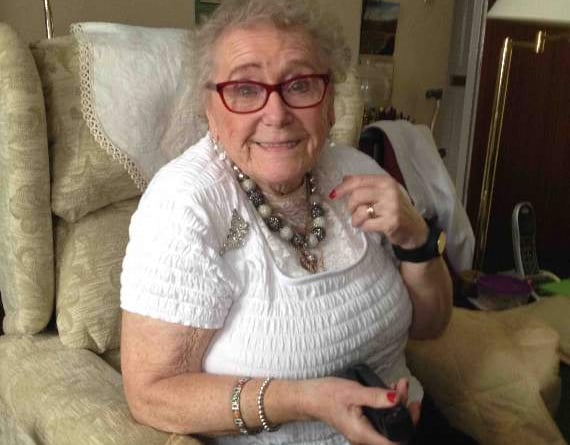 Subscribe newsletter
Subscribe to our email and get updates right in your inbox.
A FAMILY was left distraught when the wrong funeral service was streamed into their homes.
Speaking exclusively to the Mid-Devon Advertiser, Margaret Swift said that instead of viewing a live stream of the funeral of her mother Mary Cullen at Exeter crematorium, her family found themselves watching the funeral of someone called Terri, taking place in the adjacent chapel.
Mary, 93, died of old age at her home in the Brooklands housing complex in Dawlish on March 30. Like many families holding funeral services during lockdown restrictions, her daughter Margaret knew that her wider family wouldn't be able to attend, so it was a pleasant surprise when the crematorium told her the service would be broadcast live.
'We were so pleased, as many relatives live in the north and wouldn't be allowed to travel down,' she said.
'We were especially glad for Mary's brother Andy. He is 87 and was upset at not being able to attend.'
The video streaming service at Exeter crematorium is managed by an external company, Wesley Media, based in Kettering.
To view a service the family is given an access code and password to log in.
Margaret said: 'My cousin tried it out a week before the service and it seemed to be working perfectly, and again 15 minutes before the service.
However, when the funeral was due to start, just as Margaret was going into the chapel in Exeter with three other mourners, remote viewers spotted the funeral mix-up and her phone started buzzing.
'I had so many texts and messages saying they couldn't see Mum's funeral.'
The family were seeing someone play guitar at the funeral of someone called Terri – not service they were expecting.
As Mary's funeral began, family members, who were gathered around monitors to see the proceedings, immediately contacted Wesley Media who said their staff could see the service and the family must have entered the wrong entry codes.
Margaret explained: 'They said "Our team are watching Mary's funeral so contact the person who sent you the correct log in details".
'We later checked with the crematorium and they confirmed we were inputting the right numbers and password – the ones we'd been given.'
Immediately after the service Margaret forwarded her contact details to Wesley Media but has yet to hear back from them.
'I feel Wesley Media were unsympathetic to say the least. Their attitude was not what you'd expect. They were uncaring and not really interested.'
Fortunately, three days after the service a recording was made available to the family.
'At least Andy was able to see the service at last, but he was inconsolable on the day. It was a very stressful time for him, especially.'
Mary will be remembered properly later this summer.
Daughter Margaret said: 'Everybody in Dawlish knew Mum, she was such a large part of Brooklands. There will be a celebration of her life and a barbecue in August.'
Margaret and her family remain angry at the way they feel they have been treated. She said: 'The uncaring attitude of Wesley Media was unforgivable, they really did not care that the service had not been streamed live.
'This would be bad at the best of times but in the circumstances we all find ourselves in, it is truly unforgivable.
A spokesman for the crematorium said: 'It is very disappointing when it doesn't go right on the day of a funeral. There's no chance to re-do it.
'Both chapels have AV systems managed remotely by Wesley Media and they simply gave us the incorrect log in details.
'Normally it works efficiently. However, the number of AV streams has gone up nationally from 10 per week to 1,700 per day. It may be the sheer volume of services they are managing.'
When contacted, Wesley Media said they were unwilling to comment on individual cases.
Comments
To leave a comment you need to create an account. |
All comments 0