Lucky to survive bloody First World War battle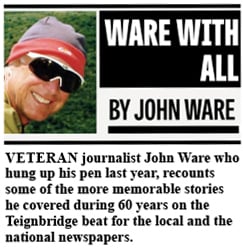 Subscribe newsletter
Subscribe to our email and get updates right in your inbox.
Forty-five years ago there was the sad story of how a veteran of some of the bloodiest slaughters of the first world had to down an invitation to revisit one of the battlefields.
The Devonshire Regiment were taking a coachload of veterans to France for the rededication of the Bois Des Buttes memorial.
The battle was one of the last of the war and claimed the lives of 600 officers and men of the Second Devons.
Only 22 survived, including Mark Knight of Teignmouth, who in 1977 was aged 81.
One of his treasured possessions was  a framed photograph of himself and four of the other survivors, taken at the original memorial dedication in about 1920.
'I had a lot of good pals killed in that battle and I would love to return in their memory. But unfortunately I have arthritis in my legs now and I cannot walk very far.
'The journey over and back would not be too much of a problem, but I do not think I would be able to walk up the hill to the new site of the memorial,' he said.
The memorial was being moved from its present position on the main Leon-Rheims  road because it was damaged by the  heavy lorries that pass by. To preserve the memorial it was being re-sited in Ville Aux Bois.
Mr Knight was then one of the few survivors of the battle still living. He had vivid and horrific  memories of the encounter which took place on May 27, 1918.
'It was one of the last big pushes by the Germans. The Devons were in the trenches and the Germans came at us from the front. Suddenly somebody said  we were being fired on from the rear as well.
'We thought it was our own people firing by mistake but an officer looked through field glasses and realised it was Germans – they had come around to the rear as well and were attacking us from both sides.
'We had no chance and parcels arrived we more or less lived on acorn coffee and a couple of slices of bread a day.'
Mr Knight was only 18 when he was captured, but by then he was already a veteran of the war.
'Looking back on it now I realise who lucky I was to come through it all.   But it was such a waste – thousands of good men slaughtered and often because of the bungling of the command.'
Comments
To leave a comment you need to create an account. |
All comments 0