New Year chimes and misdemeanours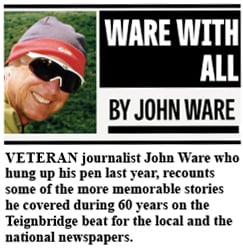 Subscribe newsletter
Subscribe to our email and get updates right in your inbox.
When a Teignmouth man claimed in 1979 he had been banned from a local Conservative Club because his daughters gatecrashed a function two years previously, it made headlines.
Construction engineer James Richards belonged to the Shaldon club for several years, and because often worked away from the area for long periods, his membership lapsed.
'I went in just after Christmas and intended to pay up any arrears and renew my membership, but before I could say a word the stewardess said I was barred.
'I just could not believe it.  When I spoke to the chairman about it he confirmed the ban and said it was because of an incident involving my two daughters on New Year's Eve two years ago.
'They and their boyfriends dressed up in fancy dress, and for a bit of fun went into the club and one of them said something like "Why don't you cheer up you miserable lot".
'I was not there at the time but apparently the members did not see the funny side of it. One of the girls was also told off for taking a sandwich from a buffet laid out for a New Year's Eve party.
'It was just a case of high spirits from four young people with very little to do in a place like Shaldon on New Year's Eve. They were asked to leave, which they did without any trouble, and afterwards I had a letter saying the girls were not to go in again.
'I accept they were probably in the wrong, but it was meant to be a joke.  To ban me when I had nothing to do with it is just plain ludicrous.
'The ban came completely out of the blue without any warning. I am a staunch supporter of the Conservative party and have belonged to clubs all over the country because of the moving about in my job.
'I have never been involved in any incident in the Shaldon or any other club.'
One of his daughters Angela Cure now living in St Helens, Lancashire, said it seemed silly to ban her father when he nothing to do with the incident
'We heard there was a fancy dress party at the club so went along in tribal outfits with our faces blacked.
'It seemed somewhat dead so we tried to liven things up  a bit. We larked about, but there was no abuse or unpleasantness.
'One man said they did not want us there because he had gone in for a quiet evening with his wife, who had a bad heart. It was mainly old people and somebody else said they did not want our sort in the club. We were asked to leave and did so without fuss.
'It seems amazing for this to blow up so long afterwards.'
Mr Richards' wife Maureen is particularly incensed at the ban and accuses some of the club officials of being 'little tin gods.'
'It was embarrassing to be told in such a curt manner that we could no longer be members. To give such a stupid reason for the ban is just incredible. They seem to want to run as an over 60s Darby and Joan club and as far as I am concerned now they are welcome to it. They just have no sense of humour.'
Roy Delbridge, the club chairman, said he had no comment to make on the reason for Mr Richards' membership not being renewed. It was a matter between the club and a member.
Comments
To leave a comment you need to create an account. |
All comments 0