Oh deer...what a perilous crossing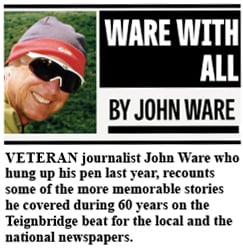 Subscribe newsletter
Subscribe to our email and get updates right in your inbox.
AMOROUS deer were so desperate to find a mate and a home of their own they were swimming across a fast flowing river, it was reported in June 1987.
'To them the grass is greener on the other side, and hopefully the competition in the love or lust stakes will be a little less severe.
'They are prepared to brave the strong currents of the River Exe to find their Shangri-La in the lush parks of Lord Devon's Powderham Estate, but it is a hazardous  journey.
'One of the biggest problems can be well-meaning humans who spot the wild deer surging through the water, and promptly "rescue" them.
'It happened when people on a yacht in the Exe hauled a young buck out of the water and brought him ashore near Starcross, after alerting police and coastguards.
'He was handed over to Powderham Estate head gamekeepers Eddie Graves who thanked them profusely for their kindness, but admitted the deer were probably never in any danger.
'He stated: "In fact they are very strong swimmers and some have even been known to cross the Avon, which is a much bigger river. I would have thought he would have made the shore eventually, but any deer would appear to be in distress if a boat came near them," he pointed out with the air of of a man who has seen it all before.
'Eddie reckons it is always one way traffic across the Exe to the Dawlish side.
'Apparently the deer around Woodbury Common are suffering from overcrowding because of a booming birthrate.
'At this time of the year the young deer are pushed out into the big world to stand on their own hindlegs.
'In the mating season they do tend to do what comes naturally, but getting fixed up with a nice lady deer and a piece of land to call home is not so easy on the crowded east bank.
'Covetous eyes are cast on the wide open spaces on the other side, and many take the plunge.
Eddie added: "Deer are very territorial and like to stake out their own area. All deer populations have increased over the last few years – they have no naturaly predators apart from man – and I suppose we are less crowded between Dawlish Warren and Exminster, than on the other side of the Exe."
'Once the Exe has been forded though, their problems are not always over.
'They have another barrier to surmount – the main Paddington to Penzance railway line.
'The seawall protecting the track is virtually impossible to  climb, and often deer can exhaust themselves trying to find a slipway or tunnel to cross into paradise, just a few yards away.
'Sadly some never make it and are killed by trains or cars.
'But those who do make it must think the emigration worthwhile – none ever go back!
Comments
To leave a comment you need to create an account. |
All comments 0