Pie and a pint evening raises money for Ukraine
The Salty River Band
(The Orchard Kitchen Cafe )
Subscribe newsletter
Subscribe to our email and get updates right in your inbox.
A BUCKFASTLEIGH cafe raised more than £1,500 for Ukraine following a pie and a pint evening on Thursday April 7.
The Orchard Kitchen, a locally run cafe based out of the first floor of Dean Forge, Buckfastleigh, teamed up with a number of local businesses to bring a hearty meal to donors.
When all was said and done, owners Alice Chew and Jack Sealey had raised £1,712 for the Ukrainian Red Cross.
A £25 donation included either a steak and ale or a chicken, leek and bacon pie or a plant-based alternative from Chunk of Devon and Clive's Pies respectively, creamy leeks, purple sprouting, red cabbage and mash courtesy of BDF Fresh Produce and pints of lager provided by Utopian Brewing.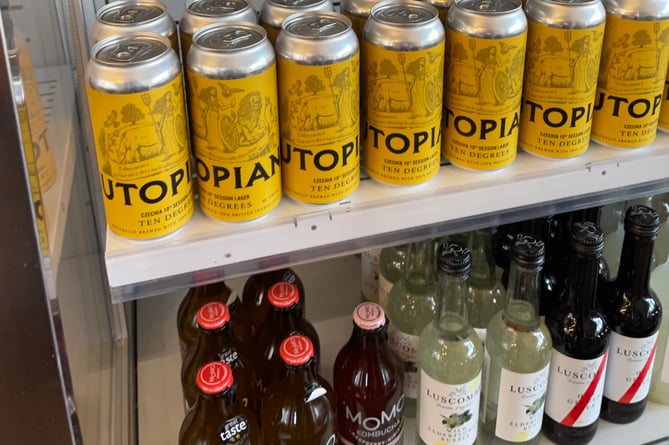 A selection of the drinks available
(The Orchard Kitchen Cafe ) (The Orchard Kitchen Cafe)
All the food and drink was donated and was prepared, cooked and served by Alice Chew and Jack Sealey of the Orchard Kitchen who also supplied and made desserts; the evenings atmosphere was elevated further with a performance by the Salty River Band who brought their signature style to proceedings.
Alice and Jack said: 'We are very proud of the amount raised and overwhelmed with the generosity of the companies and the people who helped this event and raffle become so successful.
'We hope this small token makes a big difference.'
In addition to the above-mentioned businesses, many other local businessess supported the event with prizes for the raffle which was drawn on Saturday April 30.
A cafetiere, selection coffee and tea was on offer from Voyager Coffee; one lucky ticket holder walked away with an ice-cream voucher from Creamos; four entrance tickets to Pennywell Farm were  won and many more prizes from Yume Jewellery, Mr Filbert's, Luscombe Drinks, Dean Forge, Jack Chew Plumbing, Blush Hair and Buttermilk.
The idea for an evening supporting Ukraine came about after some reflection as Alice and Jack explained.
'The Ukraine evening came about as we were reading lots about the war that had started back in February and felt helpless - it really hit home that this could happen in a modern era.
'We put our heads together and came up with what we knew we were good at - serving food and creating a good environment where people would have a great time and donate to a good cause.
The Orchard Kitchen offers a wide selection of cakes, savoury dishes and freshly roasted, small batch coffee from local roastery Voyager.
On Thursday May 5 the Orchard Kitchen announced on their Facebook page £1,712 had been raised in total and this figure is to be donated to the Ukrainian Red Cross.
The Ukrainian Red Cross helps with procurement of humanitarian supplies and is involved with ensuring the safety of refugees.
Comments
To leave a comment you need to create an account. |
All comments 0