Busy year ahead for Mayor Lisa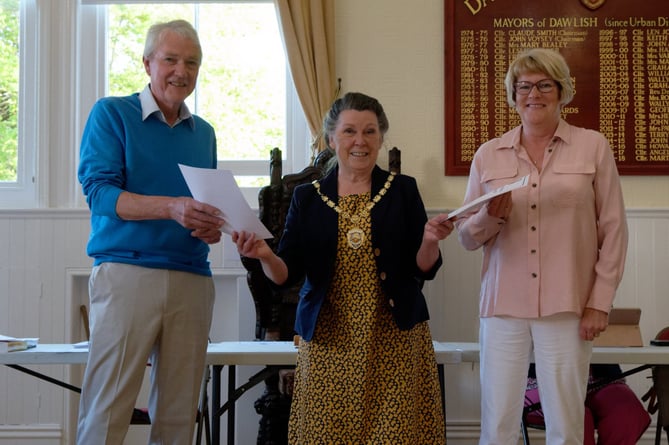 NEW TEAM: Mayor Cllr Lisa Mayne and deputy mayor Cllr Rosie Dawson.
Subscribe newsletter
Subscribe to our email and get updates right in your inbox.
DAWLISH has a new mayor – Cllr Lisa Mayne. Last week she took over from Cllr Val Mawhood who said she was honoured to have represented the town ove rhte past year.
 In her acceptance address Cllr Mayne said: 'I would like to thank my fellow members of Dawlish Town Council for giving me this opportunity to become mayor of Dawlish for the second time.
'There are very exciting times ahead in this the Queen's Platinum Jubilee year and I am honoured to represent Dawlish.
'I do know that I am following a very hard working and well respected mayor, in Cllr Val Mawhood who has been a fantastic example of how to do things right. Hopefully she will now get a well deserved rest.
'My daughter, Sammi Pearce-Mariner, will be my consort this year and hopefully now that covid restrictions are much easier we will be able to attend and represent Dawlish at lots of lovely events'
In her last official duty, after retiring mayor Cllr Val Mawhood made presentations to Dawlish's civic award recipients she said: 'Councillors and members of the public, I have enjoyed a wonderful year as mayor and have been honoured to represent this council and parish on many public occasions. These have often involved community groups and organisations and of course many entertaining events organised and supported by the council.
'My very 'last' official engagement was the opening of the Community Garden at Westcliff School which involved a lot of work by volunteers and pupils.
'The future of the planet depends on the younger generation and it is so heartening to see youngsters drawn into the amazing world of plants and wildlife. We all need to look at ways in which to help the environment, cut our carbon footprint, and I am pleased that this council is leading the way by looking towards ways in which the council properties can themselves be made more energy efficient.
'I have been privileged to attend and take part in any and every committee or working group and am pleased to report that there is much useful work going on in this council with some long-term projects now coming close to successful outcomes.
'We have working groups involved in several different aspects including our Well-being and Suicide Prevention, CCTV, Climate Change and the Play Park working groups amongst them. I am very grateful for the support I have received personally, from individuals, local businesses and organisations, and of course the Clerk and administrative staff, which has enabled me to make the most of my year as mayor and to achieve a substantial total fund of £6,000 for distribution among my chosen youth charities in the parish. Thank you everyone!
'Finally I offer my sincere good wishes to the new mayor and trust that she will have a very special year in this Queen's Platinum Jubilee year.'
=CORRECTION: In last week's Dawlish Gazette we stated that the Pig Race night raised £6,000, when in fact £1,320 was raised on the night.
Cllr Mawhood said: 'The total sum in my Mayors Fund is in fact £6,000, shared between the six youth organisations I nominated at the beginning of my Mayoral Year.'
We apologise for any confusion.
Comments
To leave a comment you need to create an account. |
All comments 0