'Exasperated' by RingGo parking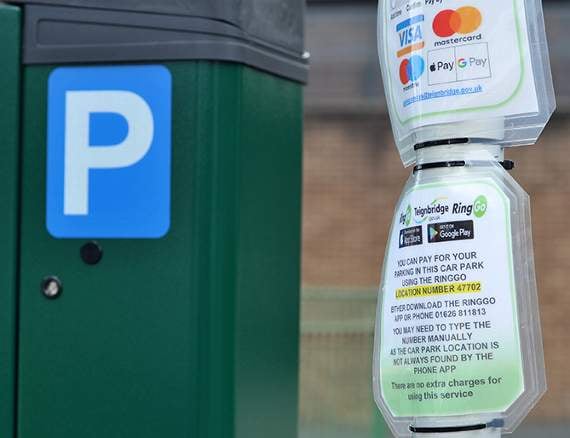 Subscribe newsletter
Subscribe to our email and get updates right in your inbox.
A SHOPPER trying to use the new RingGo car parking system in Newton Abbot found she was overcharged.
Cllr Mike Ryan raised the issue this week when he said his daughter had tried to park in town and expected to pay £2.10 for two hours of parking but used the new app that went live a few weeks ago.
'She was really surprised when RingGo wanted to charge her £3.80 for two hours parking when it should have been £2.10,' added the Newton Abbot Town Councillor.
'It makes you wonder how many other shoppers have been wrongly charged and will they get their money back.
'I've taken it up with Sally Henley (Newton Abbot's Town Centre Development Manager) as Teignbridge needs to sort this out, they're responsible for the car parks and the new scheme.'
Sally Henley said: 'There are many people who are exasperated by the time and effort now required to pay for parking in three of our largest town centre car parks and have threatened to shop elsewhere.
'While I'm sure that this is said out of pure frustration, I do hope that they don't carry out their threat, as every single visitor to Newton Abbot is important and businesses value their support as we start to come out of the pandemic.
'I'm afraid to say that the implementation of the new system has been far from smooth.
'Signage is one of the big problems. It is hard to find the new meters, most of which don't have the large "Pay here" signage which one would usually look for, when one arrives in a car park.
'When one comes across a meter, it might not accept the coins which you might have ready in your hand.
'It has been upsetting to come across more elderly shoppers who are completely flummoxed, not only by the invisibility of the machines themselves and the effort of traipsing round the car parks to find them, but also to have the additional complications of working out how to pay, when they do find a machine.
'A surprising number of people do not want to use the app or pay by card.'
A spokesperson for Teignbridge Council said: 'Changing to pay and display brings the three Newton Abbot car parks in line with others across the district.
'As the barriers got older, they were more prone to breaking down and as a result there was an increased risk of people being stuck in carparks or being delayed.
'In addition to RingGo, motorists can also pay by card or cash. We've received one complaint about an incorrect charge and we are investigating that with RingGo.
'Most motorists seem to have adapted well to the changes and we will keep signage under review.'