RECENT decarbonisation work at Teignbridge Council's offices and leisure centres has sent the authority up the ranking into the top 10 districts in the country.
A recent Net Zero survey put Teignbridge into the top 10 of 164 councils across the country with Exeter in second place.
The Council Climate Action Scorecards is a project of Climate Emergency UK and assesses all councils on the actions they've taken towards Net Zero. 
Cllr Jackie Hook, Teignbridge lead member for Climate Change, said: "I'm very proud that Teignbridge Council has come sixth in this independently assessed league table of district councils for its work on reducing carbon emissions, both within the council and across the district.  
"This Executive has placed climate change as one of its top priorities, and although we know there is still much more to do, this is a fantastic recognition of the work of our council officers, and our collaboration with partners, including our community partners Action on Climate in Teignbridge.  
"We have done particularly well with introducing energy efficiency and renewable energy at our main buildings including our leisure centres, but we need our government to assist more if we are to address fully some of our largest district emissions, such as those from transport and travel."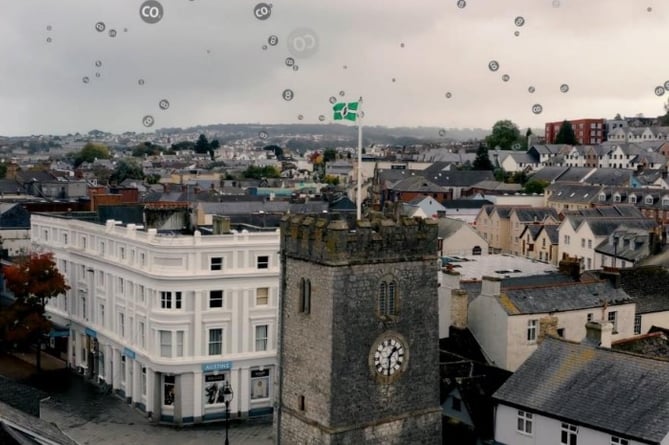 Climate work by Teignbridge Council featured in a film made for Cop26
(Teignbridge Council)
The Council Climate Action Scorecards assessment scores each council against a number of categories including buildings and heating, planning and land use, governance and finance, biodiversity, collaboration and engagement, waste reduction and food. 
Teignbridge scored particularly well for the work done to decarbonise its buildings, work on climate policy within the emerging Local Plan, and the community engagement work delivered under the Garden Communities projects and the emerging District Carbon Action Plan. 
The council also believes there is scope to increase its current score further and is seeking discussions with Climate Emergency UK to ensure their assessment accurately reflects the cross-department progress on climate.