Vandalised park trees in danger of dying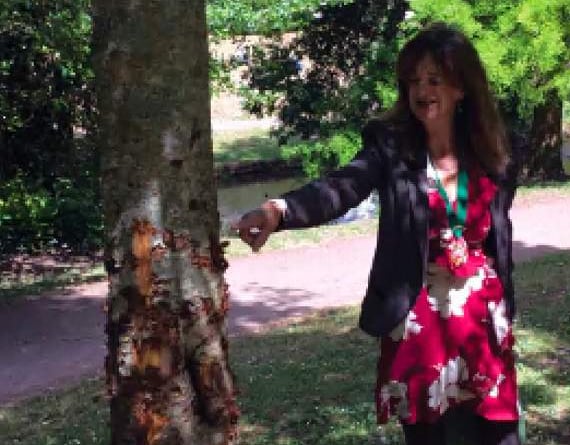 An increasing number of trees in Manor Gardens have been damaged by people with knives.
()
Subscribe newsletter
Subscribe to our email and get updates right in your inbox.
A SPATE of vandalism has ruined a beauty spot in the centre of Dawlish.
Over the past few weeks, an increasing number of trees in Manor Gardens have been damaged by people with knives cutting into the trunks and removing sections of bark.
Staff at the town council, whose responsibility it is to look after Manor Gardens, fear the damage will lead to disease and potential loss of a natural asset.
The town clerk, Andrew McKenzie, said: 'In recent weeks there has been increasing amounts of vandalism to trees in the Manor Gardens. It has included what resembles knife marks and bark stripping.
'As vandalism it is criminal damage and the damage to the trees can lead to disease and even, in some cases, the death and loss of a tree. Some of the trees in the gardens have been dedicated in memory of loved ones.'
The council stressed the importance of open spaces in the time of lockdown confinement. Mr McKenzie explained: 'The open space of the Manor Gardens is enjoyed by children and adults, and contributes to individuals' emotional and mental wellbeing, especially at the current time.
'Trees are an integral part of this enjoyment, as well as, having an important role in providing wildlife habitats for insects and in relation to climate change. We would encourage people not to climb the trees and break branches as this could affect the health of the trees in addition to the vandalism.
Mayor, Cllr Alison Foden was angered by what she saw when she visited the scene, pictured left.
'I am appalled and disgusted about what is happening to these trees in the Manor Grounds,' she said.
'They are the lungs of Dawlish and are part of our public open space. Cooper beech, birch, oak and many others have been damaged and the trees should be respected.
'I appeal to local people that if they see a tree being vandalised to report it to the police and the town council.'
Mr McKenzie added: 'The vandalism and concern about knives being carried and used has been notified to the police. The police patrol the area regularly. If anyone sees anything suspicious, please report it to the town council on 01626 863388 or email [email protected].'
Comments
To leave a comment you need to create an account. |
All comments 0