CRICKET: Clubs asked for their preferences ahead of potential restart
Friday 19th June 2020 3:00 pm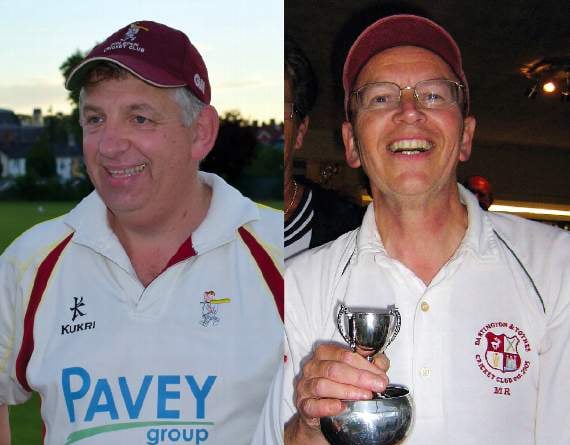 PICTURED: Ipplepen chairman Keith Wakeham, left, and Mick Rusling, chairman of B Division new boys Dartington & Totnes.
Subscribe newsletter
Subscribe to our email and get updates right in your inbox.
CLUBS in the Tolchards Devon League have been asked what sort of competition they would like to see if and when cricket gets the go-ahead to be played, writes Conrad Sutcliffe.
Any decision to start playing cricket will cascade down from the Government to the ECB and then to the Devon Cricket Board and the Devon Cricket League. No firm dates have been fixed yet.
Nick Rogers, the league chairman, recently unveiled a provisional blueprint that has friendly cricket being played from mid-July as a warm-up to something more organised in early September.
Rogers has already floated the idea of 'adaptive cricket' being played as a first step, although the idea of playing eight-a-side friendlies drew a cool response from some sections of Devon's cricket community.
Rogers said while waiting for ECB approval to start playing there is time to canvass clubs to see what they want. A seven-point survey went out to clubs earlier this week.
Among the questions asked are:
- Can your club carry on playing into September?
- Is your home ground available into September and if so for how long?
- Does your club have the flexibility to play on Saturdays or Sundays, which would be a last resort?
- Would you be willing to play on August Bank Holiday Monday (August 31)?
- Although the league's preferred format is 11-a-side cricket, would your club be interested in adaptive cricket involving fewer players, adapted field placements and umpire positions?
Although survey replies don't have to be returned until late June, initial responses are clubs want local cricket without the hassle of travelling long distances.
Keith Wakeham, pictured left, the Ipplepen chairman and former first XI captain, is more concerned about getting games on than the type of cricket actually played.
'I have no strong feeling on overs, but the least travel the better makes sense,' said Wakeham.
'The main priority is to get some cricket on - whatever it looks like.'
Wakeham said the club is 'open' to the idea of playing in September and on Sundays, although he would like to leave room for potential tourists, if they are allowed to travel.
Ipplepen run three Saturday sides in the Devon League and he is concerned about opportunities for the lowest level team.
'Our third team may struggle to play at home as they use Stover School, which is currently closed,' said Wakeham.
Mark Faulkner, the chairman of Chelston & Kingskerswell CC, was one of the first to see the league's survey.
'Rather than let the committee decide on behalf of the club, we have copied the survey to all our members to find out what they want,' said Faulkner.
The cricket club share grounds with Kingskerswell & Chelston FC, which Faulkner admits could limit cricket spilling over into September.
'We would have to get the football club's consent as they officially have all the ground from September onwards and might want it for training if they are not playing by then,' said Faulkner.
Mick Rusling, pictured right, the chairman of B Division new boys Dartington & Totnes, is also asking players for their views, even though he has a good idea what they will say.
'Local games would be a strong preference, then we can largely travel in our own vehicles,' said Rusling. 'I suspect we would prefer longer matches – I know I would.'
Ashley Berry, the captain of Ashburton First XI, would like to see cup cricket played based on existing divisions, in his club's case the C West.
'Split the division into two groups, play a round robin for four weeks, the top two from each go into a semi-and winners on to a final,' said Berry.
'The whole thing would last six weeks and would be competitive, which I think a lot of clubs are keen to keep.
'Logistical issues, such as where to play the final, could be resolved relatively cordially.'
Berry is no enthusiast for adaptive cricket, other than as a last resort. He said: 'I'm not sure of the logic of eight-a-side games.
'Surely the issues of having 11 – no changing rooms, bring your own teas, outside bars and so on – still apply to eight.
'The big difference is the cricket becomes far less enjoyable.
'All that said, a quick scout of our members appears to show that some cricket is better than nothing and they would get involved.'
Matt Heather, the skipper of B Division side Chudleigh, is open-minded about the format with a slight tilt towards T20 cricket.
'I have no preference what type of cricket we play, but if it's easier and quicker to sort out T20 games then I'm all for it,' said Heather.
Heather said he would prefer to be grouped in a local competition with sides from higher divisions.
'As a B Division club we would enjoy playing competitive games against stronger local teams as I believe we would get a lot out of it,' said Heather.
Comments
To leave a comment you need to create an account. |
All comments 0