A PULSATING performance saw Buckland Athletic extend their Western League unbeaten run to four games with a 5-1 win over St Blazey on Wednesday night.
Buckland's five goals came from five different scorers; Josh Grant, Owen Stockton, Teigan Rosenquest, Cieran Bridger and Jared Lewington all finding the net to propel the Homers Heath side into a commanding lead. CJ Pritchard popped up in second-half injury-time to deny Buckland their first clean sheet since April.
'I think a win like this is a long time coming for us,' said delighted Head Coach Dan Hart. 
'I thought, at times tonight, we showed every part of our game that makes us who we are and what I like to see in my teams and we were on the front foot, wanted to hunt the ball relentlessly and that ended up – thankfully, after Saturday [1-1 draw with Clevedon Town] – with a lot more quality in the final third and particularly in front of goal.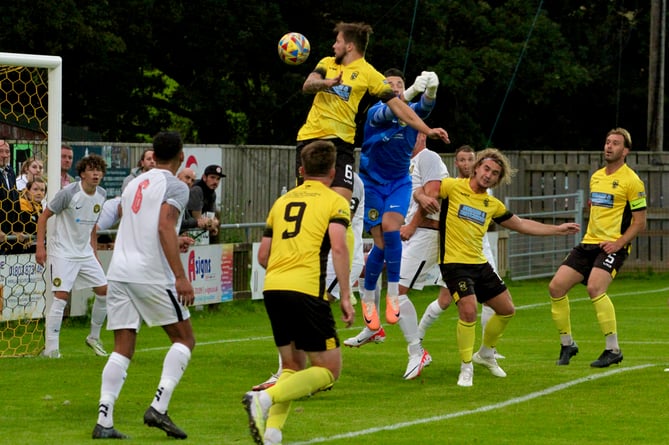 Free-scoring Buckland had 'a lot more quality' in front of goal, according to Head Coach Dan Hart.
(Josh Goodman)
'We probably could have scored a few more but Blazey are a good side – they've got draws at Barnstaple [Town], they ran Helston [Athletic] very, very close at home and I'm delighted to be able to put a result like this on the board. 
'I'm just really impressed with the lads and how they went about things tonight.'
Buckland began well and were enjoying the majority of the ball between the boxes. On 14 minutes, the Bucks took the lead as Grant was slipped delicately through by Ryan Bush and deftly chipped over onrushing goalkeeper Shaun Semmens.
It was two 10 minutes later. Sam Morcom's corner was headed right back to his feet, and on the second time of asking he picked out Rob Farkins. The captain's header appeared to be goal-bound but Stockton was on hand to make sure.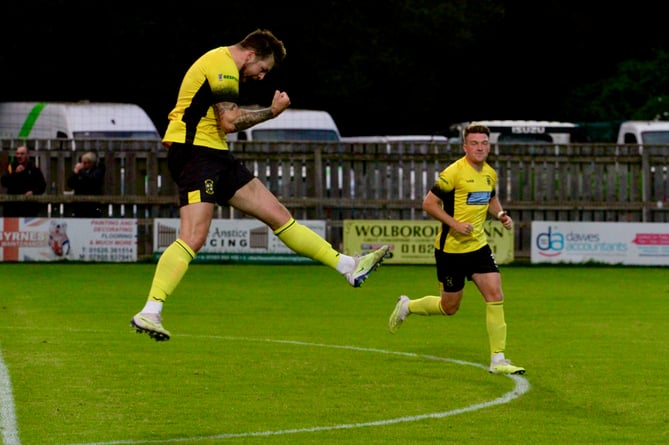 Owen Stockton, left, jumps for joy after scoring Buckland's second.
(Josh Goodman)
The Bucks rounded off a classy first-half display with a third goal just past the half-hour mark. Bush again the provider but this time Rosenquest the beneficiary of a square ball as he arrived on the scene to side-foot home his first Buckland goal.
'I was weirdly happy on Saturday [after the draw with Clevedon] – I thought we played really well,' Hart explained. 
'I've struggled with that all weekend, with what we should've got from the game and I spoke to the Clevedon manager a couple times and he's still in disbelief as well, so to actually put a game to bed early with some really good, cultured finishing does feel good and makes me relax a little bit more.'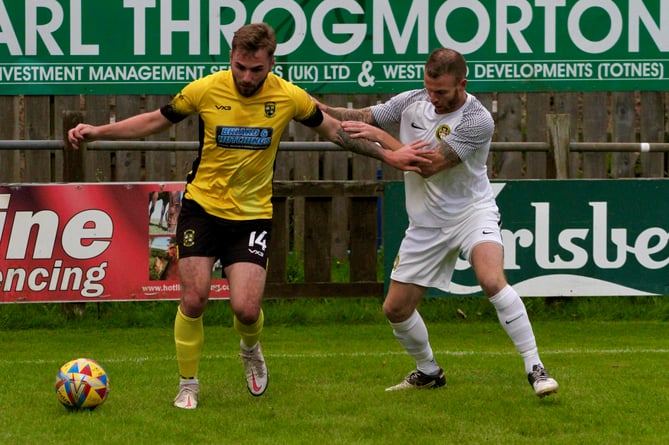 Teigan Rosenquest, left, fends off the challenge of a Blazey defender.
(Josh Goodman)
The cascade of goals continued 12 minutes after the half-time interval. Bridger slipped a neat ball through for Grant on the right, who selflessly returned the pass for the midfield maestro to bury it into the far corner.
'It's good [to have goals coming from across the team],' Hart said. 
'We've always known that we've got goals in this squad and I'm really pleased to see midfielders chipping in with goals and I thought all three of them in there – Callum Watson, Cieran Bridger and particularly Ben Carter – were outstanding tonight.'
Twenty minutes from time, Lewington put an end to his dry spell with his first goal in six games, taking advantage of a disorganised Blazey rearguard and bringing a delivery from Sammy Stayt under control before thumping home.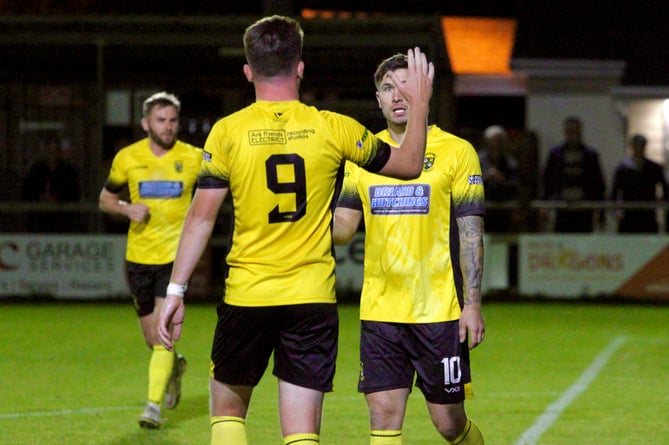 Jared Lewington, right, goes in for a high-five with Ryan Bush after his goal.
(Josh Goodman)
But the Cornishmen refused to head back across the River Tamar without having something to shout about. Deep into stoppage time, Pritchard converted a smart passage of play to grab a consolation.
'I'm not particularly [frustrated with conceding],' Hart insisted. 
'I was draining every last sinew out of the players at the end and screaming them through the game, and they did look a little bit leggy and the goal came in off both feet at the end there but it is what it is. 
'Andy [Collings] will be disappointed – more disappointed than most – but, for me, the pros of tonight's performance far outweigh their goal at the end.
'I genuinely don't think there's an easy game in this league,' the gaffer continued. 
'Blazey will beat a lot of teams this season but they've had a really tough start in their first four or five games. I know that Laffs [Phil Lafferty] and whoever's in that dugout will get things right down there, and they've got a lot of quality as well. 
'I think anyone in this league is tough opposition and I feel that if we play like we did tonight, nobody in this league lives with us.'