CALLUM Leech's late strike sealed a dramatic win for Bovey Tracey on Tuesday night as they beat Newton Abbot Spurs 3-2 in the Teignbridge Derby.
'I'm extremely happy with the three points, said Bovey boss Tony Radford, 'and the fact it is a derby makes it better. 
'I did say before the game I'd take an ugly win – I'm fed up of playing well for 70 minutes and conceding goals – and we definitely did it the ugly way, being 2-0 up against 10 men and going to 2-2 but when you get a last-minute goal against anyone it is the best feeling in football; even better when it is a derby.'
Spurs manager Marc Revell said: 'I'm disappointed for the lads – disappointed and annoyed because I think we were far the better side second half with 10 men and at 2-2 and even 2-1 I was really confident of us getting a result. We did ourselves with a couple of misses and a couple of bad decisions – they scored on a counterattack which we let ourselves down from a short corner, we absolutely fluffed it.'
The Moorlanders opened the scoring after just two minutes when James Watts-Barciela broke wide on the right and put in a neat ball for striker Sean Finch to squeeze home his 101st goal in Bovey colours from close range. Watts-Barciela would be influential again later in the half when he was chopped down on one of his trademark explosive runs, with perpetrator Jaden Bond given his marching orders.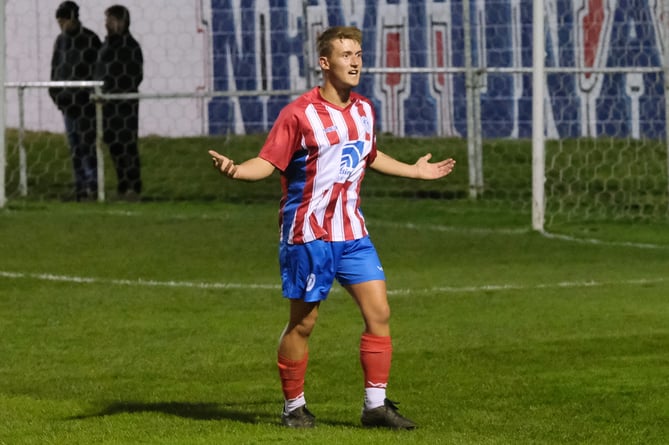 Jaden Bond protests his innocence as he trudges back to the dressing room.
(Alan Craig)
'James is a scary talent when he gets going – you can't really stop him,' Radford explained. 
'[Bond], who he was against, got sent off because James had already passed him two or three times, and he'd obviously had enough – it was a bit of a nasty challenge. He is so quick people get frustrated and want to break him in half. 
'He assisted Sean's goal and put the pass on a sixpence; he's not just quick, he's quality too.'
Scorer turned provider on 34 minutes as Bovey forged a two-goal advantage. Alangel Joseph cleverly placed a right-sided free-kick into the near post which Finch helped on to six-yard box with his back to net. Arriving on the scene was centre-back Tom Cavanagh who bundled home his first Bovey goal.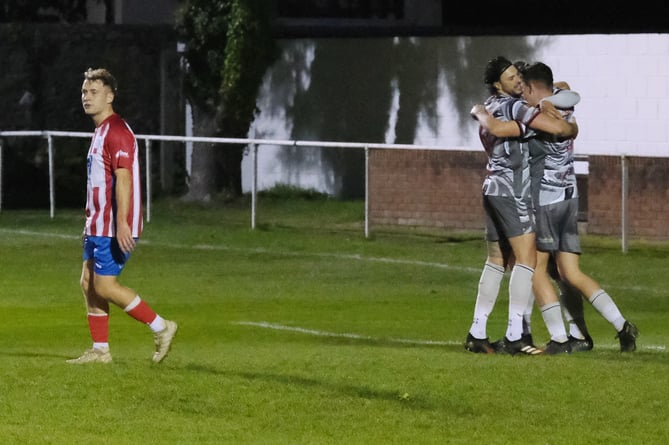 Bovey Tracey players embrace each other after their second goal.
(Alan Craig)
Theo Ramsey halved the deficit facing the 10-man hosts on the stroke of half-time as his wind-assisted cross-cum-shot from an acute angle got the better of Bovey goalkeeper Jack Dixon and dropped into the netting behind the far post.
'I tried to ram home [at half-time] that it is not easy playing against 10 men; a lot of clubs find it hard and often it is more difficult,' admitted Radford. 
'I thought Spurs came out really well, so the message [at half-time] was to stay calm and look to string some passes together. First half the game-plan was perfect – bar conceding last-minute to a bit of a worldie – but the game-plan was great and they all listened.'
'I just said 'keep going' because we still had it,' Revell said of his half-time talk. 
'Bovey play very deep, so I knew whether they had 10, 12 or 15 on the pitch they'd have them all back and they would play on the counterattack because they've got good passers of the ball out from the back and they've got some good people on the break with AJ [Alangel Joseph] and Leechy [Callum Leech]. 
'I wanted to go after the game because I thought 2-1 was a good scoreline because they would be more nervous about protecting it than we will about chasing a goal. I told the lads to play out from the back a little bit and stretch Bovey and get them to come up the pitch, and it worked brilliantly – it just didn't work until the end.'
Short-handed Spurs pulled level on 68 minutes when Toby Pullman was set through on goal by a ball over the top of the defence. With the ball still bouncing, the in-form forward lifted it over the onrushing Dixon for his fourth goal in three games.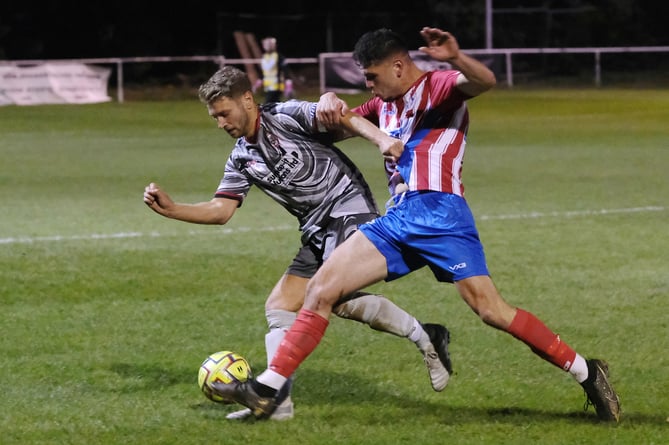 Spurs showed plenty of initiative despite being down to 10 men.
(Alan Craig)
But there was still emphatic drama awaiting as Bovey Tracey snatched victory five minutes from time through Leech, who capitalised on a tame short corner to break away on the counterattack and drill underneath Spurs 'keeper Kit Glanville.
'I said to the lads to not think we shouldn't take short corners because they do work; we scored one late against Sidmouth [Town] here, we just worked it better,' Revell explained. 
'If that had happened tonight, we'd be the corner specialists but because it hasn't, the lads are sitting in [the dressing room] picking themselves apart. It's hard to suck it up and take it because I think a draw would've been fair but we've gotten away with results, so we've had our fair share of luck until the end. It wasn't meant to be, and that's a really bitter pill to swallow.'
Radford said: 'It's nice to do it against these so late. I think four or five of their results this year have been done in the last five minutes – they score late, that's what they're good at. They're fit, strong and a good side but to do it to them says a lot about our mindset and our strength. 
'I know it was against 10 but you've still got to put the ball in the net, you've still got to get the ball into the box and you've still got to get there. Cal Leech, who for a couple of weeks has probably been one of our best players, for him to get through at the end and score is lovely.'