SAM Stayt booked Buckland Athletic a spot in the quarter-final of the Devon St Luke's Challenge Cup on Wednesday night as they beat Crediton United 1-0 at Lords Meadow.
Stayt struck moments after the half-time interval and proved to be the marginal difference between two sides who struggled to create many chances at goal.
'It's our first game bit for a bit of time and you could see that,' said Buckland Head Coach Dan Hart. 'Not only were we rusty in possession but I think it's quite clear tonight that Crediton have done really well to get the game on because the pitch was in really poor condition. 
'There was never an opportunity for either side to play good football tonight; I think they had joy in the first half by being nice and direct and using their strengths and we were trying to overplay. I think we were second to too many first and second balls, so at half-time I made that clear; these boys are experienced players – gone are the times where I had to dish out hairdryer treatment to get a response from them. 
'Now it's more about reminding them of the standards we set and the reasons why we lead this team, because we want to see us do things in the right way. You're not always going to be able to play nice football, so in the second half we asked the boys to be more direct and to use the pitch better and use our strengths. 
'Particularly in midfield, I thought Callum Watson and Ben Carter showed their quality, locked that patch of the pitch up and linked passes and played nice balls into areas, and we got a goal from it but we could have had two or three. I was pleased for Andy [Collings] coming back into the team and getting a clean sheet.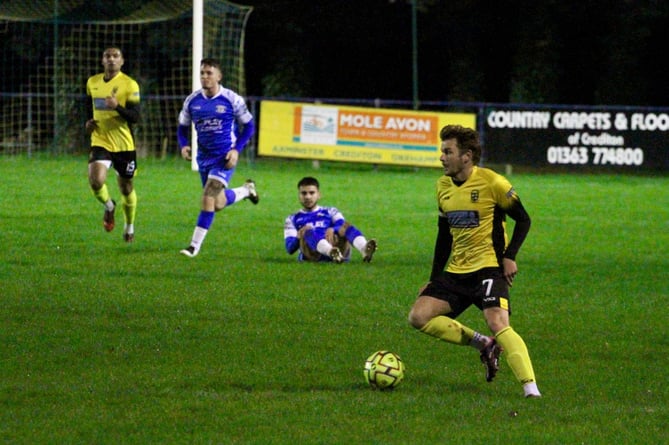 Ben Carter steers the ball through midfield.
(Josh Goodman)
'There were some good performances in the second half and I'm pleased to get through because this is a cup I hold in high regard.'
Peninsula League Crediton began well and saw a half-chance go to waste on 10 minutes when Lucas White was set in on goal by a lofted delivery. White snatched at the shot and pulled the trigger on the bounce but his well-hit effort arrowed harmlessly into the clutches of Bucks 'keeper Collings.
'Crediton are a really good side and they're reeling from losing their managers this week as well,' Hart said, 'so I was really impressed with how they went about it. 
'We've been struggling defensively, so to get a clean sheet is the most pleasing part. I'm not disappointed it was a tight game; I think that's a good thing, it gets us back into the swing of things and little bit of rhythm.'
The Bucks pushed their noses in front in the opening minute of the second half. Left-back Sam Morcom floated a cross in for Ryan Bush, who saw his header crash against the post. Home gloves-man Ethan Chalk was tempted into a misjudged dive and Stayt was first to react to the ball bobbling along the goal line, stabbing home his fourth goal of the season.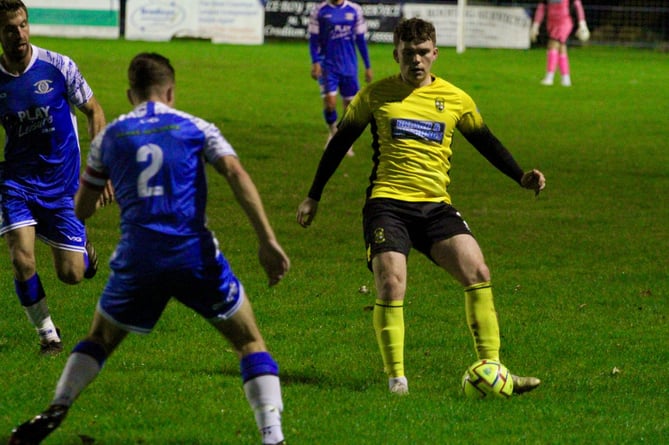 Sam Morcom in possession.
(Josh Goodman)
'I think chances are a little bit offset by the pitch,' Hart explained, 'because it is tricky to create and find that final pass; unless you're scoring a worldie or it comes from a slight error – which their 'keeper might have made tonight for ours – you're not going to score. 
'Both teams kept it tight, both teams defended well in their own way and it was always going to be a narrow one tonight – I'm glad with how it panned out for us.
'It's reassuring for a manager to know that what us as a coaching team put to the players at half-time gets a response, and we looked the polar opposite team so there is a reassuring element there for us. To go out hungry, do the right thing straight away and score an early goal puts us with the right foot forward.'
Buckland will join, among others, Newton Abbot Spurs in the hat for the quarter-final draw. It was in this same stage that the Homers Heath side bowed out last season when they were beaten on penalties by Teignmouth.
'I really do rate every cup we enter,' Hart said. 'This is one I've won as a player and I'm hungry to succeed as a manager – to me, success doesn't mean the building blocks that I've put in place at two clubs, it means winning titles and trophies.
'If that starts with the county cup I'll be over the moon, so I'm going to chase everything we can win and put strong teams out in every competition.'