Bowls assault leaves man with face injuries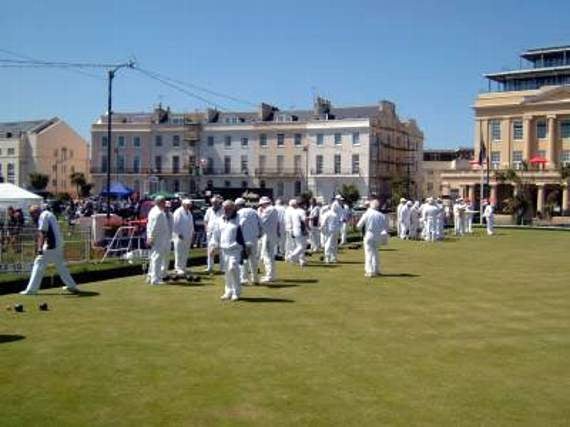 Subscribe newsletter
Subscribe to our email and get updates right in your inbox.
TEIGNMOUTH'S regular run-in with teeny tearaways in the town reached boiling point over the weekend in one of the worst outbreaks of anti-social behaviour witnessed in the resort.
All hell broke loose when a gang of youngsters invaded the bowling green on The Den where the home team were playing visitors from Lyme Regis.
One bowler was viciously assaulted when he dared to protest at the spoilers' nasty antics just after 5pm on Saturday.
A witness likened the troublemakers to 'feral idiots' as their shameful behaviour was unleashed, watched in open-mouthed horror by hundreds of appalled locals and tourists.
Among those looking on in disbelief was Den bowler Eric Tose who reckoned as many as half-a-dozen of the 'usual suspects' were involved in the ugliness which lasted for an embarrassing 30 minutes.
He said after the bout of skirmishes: 'These kids have been intimidating people in the resort for years.
'This was the worst of it. Some people said they had not seen anything like it in their lives. It was dreadful.'
The offenders, in a blatant 'show of power' refused to get off the green when asked. One remonstrating club member was beaten about the head for his troubles. He was left badly shaken by the ordeal, suffering broken glasses, a cut to his nose and abrasions to his face.
Some of the bowlers and members of the public waded in to help – and managed to pin down a suspected ring-leader, which prompted a rearguard action from his thuggish mates. One was armed with a metal chair while another picked up a brick from a flowerbed.
Mr Tose singled out the heroics of an off-duty policewoman who had been out on a jog when she intervened to help the terrorised bowlers.
'She took one of the lads down. She decked him – and he wasn't going anywhere after that. Another off-duty policeman went to fetch some cuffs,' said Mr Tose.
He added: 'As this was going on, screaming girls were hurling foul language at those protecting the green and members, raising the temperature of this shameful scene.
'The police eventually arrived in four cars and took control of the situation but not without further struggles from the two captives and harassment from the remaining gang members.'
He told the Mid-Devon Advertiser: 'A large number of bystanders saw this disgusting attack on elderly people, all over 60, being openly abused in our town.'
And he asked: 'What is this town coming to? Maybe the newly-elected councillors can turn their minds to the problem.
'These problems with local youths have been going on for years now, but no action seems to have been taken to quell their nefarious activities.
'The culprits are being allowed to run the town and its daily activities without retribution.'
He added: 'On the weekend we remembered the sacrifice made by all those brave lads and lasses to preserve our freedom.
'Will these animals be allowed to make a mockery of all the good they gave their freedom for?
'Where will this behaviour all end? And, I ask, who will show that they care?'
Police confirmed they attended the scene of the 'disturbance' at the bowling green at 5.15pm.
He said: 'Two 14-year-old boys were arrested on suspicion of affray and assault. Both have since been released on police bail until July 5.'
He added: 'One person sustained a minor facial injury and was taken to Torbay District Hospital as a precaution.'
Comments
To leave a comment you need to create an account. |
All comments 0