Sailor's story inspires song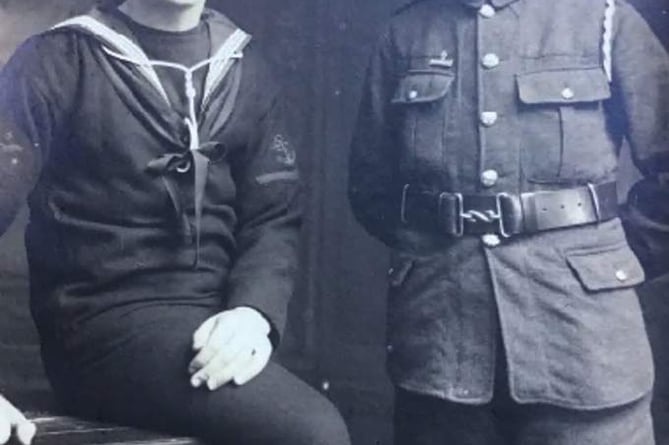 Brothers in arms... Chris and Gordon Churchward.
Subscribe newsletter
Subscribe to our email and get updates right in your inbox.
A MUSICIAN'S great-uncle who died at sea during WWI is remembered in a song on the artist's latest album.
'Christopher & Olive', a song from Torbay based band The Legendary Ten Seconds, tells the tragic tale of Christoper Churchward and Olive Reynolds.
The pair had been engaged to be married shortly before Christopher, a sailor in the Royal Navy, was whisked away to war.
Taking part in the Battle of Jutland in 1916, Christopher was aboard the HMS Indefatigable when the British battlecruiser came under heavy fire from a dreadnought-class warship of the Imperial German Navy - the SMS Von der Tann.
A shot from the Von der Tann struck the fore turrent of the HMS Indefatigable and caused devastating damage.
Erupting into flames and spewing columns of thick black smoke, the British warship suddenly exploded and many brave sailors were killed - including Christopher.
Alas, the union between Christopher and Olive would never come to pass.
Christopher's great-nephew, Ian Churchward, wrote a song all about his relative's story called 'Christopher & Olive' and is one of many songs that feature on 'Songs About Devon' - the latest album from Ian's music outfit The Legendary Ten Seconds.
The album is formatted to resemble a Torquay-style radio show with jingles recorded by the band and introductions by Riviera FM's very own Peter Cartwright.
Released in October, 'Songs About Devon' delves deep into Devon's rich history with each song taking inspiration from a memorable piece of the county's past: everything from a song about the attack on Exeter in 1497 by Perkin Warbeck to the tragic flood in Lynmouth in the 1950's.
The band's latest album truly takes the listener on a journey across time and space - of Devon at least!
The album is avaliable on: Apple Music, Amazon, YouTube and Spotify
Comments
To leave a comment you need to create an account. |
All comments 0