Birthday fun for Scouts
Sunday 7th August 2022 3:00 pm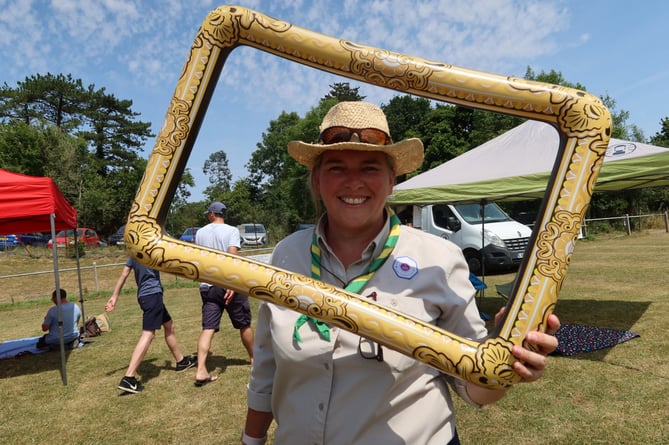 Sara Pitchford, Group Scout Leader at Buckfastleigh 1st Scouts. Picture: Buckfastleigh 1st Scouts.
Subscribe newsletter
Subscribe to our email and get updates right in your inbox.
Buckfastleigh 1st Scouts celebrated their third anniversary, but the story of scouting's return to Buckfastleigh begins with Sara Pitchford 15 years ago in another county.
In 2004 Sara was living in Hampshire and keen for promotion to the rank of officer in the Royal Navy.
Needing evidence of her leadership abilities, she came a Beaver leader at a local scout group.
Her first child, Charlotte, was only a toddler at the time and Pitchford imagined that this would be a short-term commitment. Instead scouting became a pillar of family life as they moved with her career.
After retiring from the navy, Sara was living in Buckfastleigh. She was a Beaver leader in South Brent, where her second child, Charlie, went to cubs. So why start a new scout group in Buckfastleigh?
'Knowing the demographic in our local community,' She says, 'It is crying out for something going on, especially with the lack of transport links.'
And so, in 2019 she started the 1st Buckfastleigh Scouts along with local volunteers.
It has been a rewarding experience, she says, for example when a local parent thanked her saying,
'I am really pleased you have set this up. It has brought our family together. Because of the different badges my husband has now got involved and we go out together and do things at weekends like going for walks.'
Whilst covid proved an obstacle to the usual scouting activities, virtual scouting was a positive boost to the mental health of the young people and gave them the motivation to work towards badges at home.
Buckfastleigh was the first scout group in Devon to organise a camp once restrictions were lifted and in April 2022 the cubs enjoyed their first camp together at Watcombe.
Watching an amazing sunrise over the bay from the campsite with some of the cubs at 5am was one of Pitchford's high points.
As is seeing the positive impact that the activities have on the young people.
She described how recently, when the cubs and scouts went stand-up paddle boarding at Broadsands,
'There was a particular young cub who weeks before was unsure whether he wanted to do it. He got on and had a least 15 minutes with the rest of the pack.
'When he got off, he was beaming.'
Sara is enthusiastic about the new Squirrels dray for four to five-yearolds, which encourages exploration and being with other children.
The Scouting Association started Squirrels in response to the pandemic because they were aware of how many children missed out on the usual opportunities to socialize during lockdowns.
The hardest part for sara is having to a cancel session when leaders unable to attend so the more volunteers involved the better.
She says scouting is moving increasingly towards a teams-based approach where everyone's contribution can fit in somewhere. There is no need for scouting to be a weekly commitment for leaders.
Sara would love to hear from people who can help with one-off sessions or who want to volunteer fortnightly, monthly or fundraising behind the scenes.
Volunteering has given her friendship and the opportunity to give back to the community. She is trying to instill the idea that people don't always have to be there and as the Scouting Association campaign goes it's 'good for you.'
This was clear from the smiles at their third anniversary celebrations at Buckfastleigh Football Club on Sunday.
As well as an inflatable assault course, a watery catapult and pizza, there were awards for children and leaders.
Amongst them Cally Rice and Ewan de Young achieved the highest Beaver Scout award, the Bronze Challenge Award.
What began as evidence for a promotion has become central pillar of Pitchford family life.
Ian Pitchford, her husband joined scouting alongside her and is now Deputy County Commissioner. Their son, Charlie, is a scout and daughter, Charlotte, is a Scout Leader who is taking a Devon contingent to the World Scout Jamboree in South Korea in 2023.
1st Buckfastleigh Scouts currently has five sections from Squirrels (four to five years) up to Venture Scouts (14 to 18 years) and a waiting list of more than 60 young people.
What does sara hope that the future holds?
'Our dream is to have our own scout hut with a bit of land and the ability to store equipment. At the moment, we have a very small cupboard and our garage.' Pitchford smiles and, as ever, finds the positive in this situation, 'What it has shown is that you can run a successful group without that. It shouldn't put other places off.'
Comments
To leave a comment you need to create an account. |
All comments 0