Councillors voice their concerns on Queen Street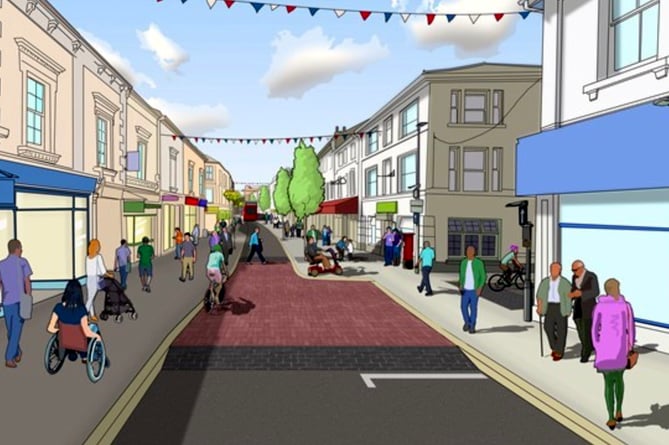 Artists impression of Queen Street
(DCC )
Subscribe newsletter
Subscribe to our email and get updates right in your inbox.
WITH plans to improve Queen Street in Newton Abbot for pedestrians having been given the green light, local councillors have aired their concerns following the decision.
---
Cllr Mike Hocking said: 'As someone who was able to go to the HATOC meeting I was very surprised to read the officer's report together with the outcome of the consultation on the Queen Street plans, I was even more surprised how the officer's report managed to put a spin on the results to make the 51% to 49% sound so positive.
'I believe those who voted for the TROs failed to see the harm the loss of parking could do on businesses at the west end of Queen Street, the closing off of King Street and pushing through traffic up Albany Street all of which will affect residents living in and around these areas.
'I fail to see how deliveries to business above Albany Street will be dealt with bearing in mind that NO vehicular access will be allowed in this part of Queen Street except Buses and cycles, but Taxis and disable vehicles can travel through to drop or pick up passengers.
'Hopkins Lane will be made one way for what good that will do as it is only wide enough for a car and access at its west end with Queen Street is very poor.
'This plan in my view is not good for Newton Abbot, its residents or visitors alike, and unlike Cllr Bullivant who said at the meeting councillors must look forward to the future, I tend to look around and see what mistake are made in other places, and back to mistakes others have made in our town and, I hope I am wrong, but I can see this being another mistake with what could prove to have grave consequents for the west end of Queen Street and it businesses, I do not and will continue to speak against this ill thought out plan.'
---
---
Cllr Mike Ryan said: 'Personally I don't agree with it because of the loss of many parking places, it is not only the ones where you pay for other street but the other side of the road the single yellow line allows you to park for free on evenings and weekends after 6pm so where are all these cars going to park now, also, there is no loading bay for the pound shop.
'Once you widen the pavements what's to stop all the cafés and restaurants from putting out tables and chairs and blocking the pavement?'
---
---
Cllr Mike Joyce said: 'Speaking to both residents and businesses, I gather that there was not an overwhelming voice in favour although, like every consultation, it is how individuals interpret the questions asked.
'My big concern is if, and it looks like this may go ahead, it proves not to meet the expectations presented it is too late to change it once done.
'As always, other schemes of a similar nature have been mentioned and highlighted as examples but as I always try and point out, what works in another area does not necessary work here - one size does not for all.
'I welcome investment in our town but that investment has to be used in the right way, in a way that benefits everyone or at least those who use our town and it must encourage visitors and others into Newton Abbot.
'There are some good points within the proposals but I have yet to be convinced that these proposals, as they stand, will neither improve nor encourage more trade and visitors.
'I hope I am wrong, I hope down the line what is being proposed will enhance the experience of those using our high streets.
We are, after all, playing with the livelihood of our traders and the staff who work and serve those that use our town.
'If we get it wrong, Newton Abbot could look like many other high streets, with a greater number of empty premises unlike now where we have a low percentage of empty premises, thanks to our Town Development Manager, Sally Henley.'
Comments
To leave a comment you need to create an account. |
All comments 0