Digging in to light up town for the festive season
Friday 7th November 2003 12:00 am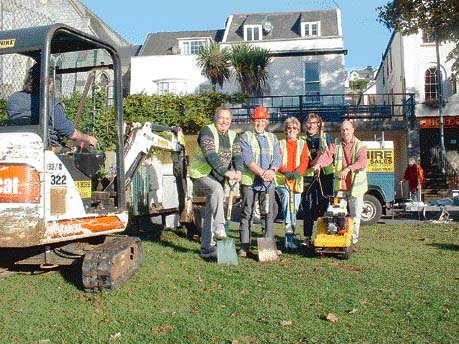 LET THERE BE LIGHT: Carnival committee members from left to right, Brian Heath (chairman), Dave Farley (vice-chairman), Val and Mike Wedlake, and Darren Wright, with Cyril Tucker in the excavator.
()
Subscribe newsletter
Subscribe to our email and get updates right in your inbox.
DAWLISH Town Council, the carnival committee and the chamber of trade have banded together to ensure that festive decorative lights will illuminate the town by Christmas.
New electricity cabling and water mains have been installed so that the lights for the trees will have their own supply and the marquee on the lawn during carnival week will benefit as well.
At 8am last Saturday morning, six members of the carnival committee gave up there day to help with the installation and worked with diggers, spades and forks until 6.30pm.
Brian Heath, chairman of the carnival committee, said: 'We had a good team and all felt as though we had achieved something that day.
'We now don't have to run the cables through the trees as we have always done before.'
The partnership would like to say a very big thank you to all the organisations that have made this possible: Teignbridge Council allowed the partnership to entrench the services across part of the Lawn; SEC and Western Power Distribution have made contributions to connecting meters and allowing the use of meter cupboards; H & S Hire of Teignmouth supplied earth moving equipment and other tools to the carnival committee who did the work free of charge.
The following organisations made monetary donations: Dawlish Chamber of Trade and Commerce, the carnival committee, the town council, Heavitree Brewery, David Rowland and South West Water.
Finally, the partnership would like to say a big thank you to all those who turned out to help on the day.