Our horrendous ordeal in A&E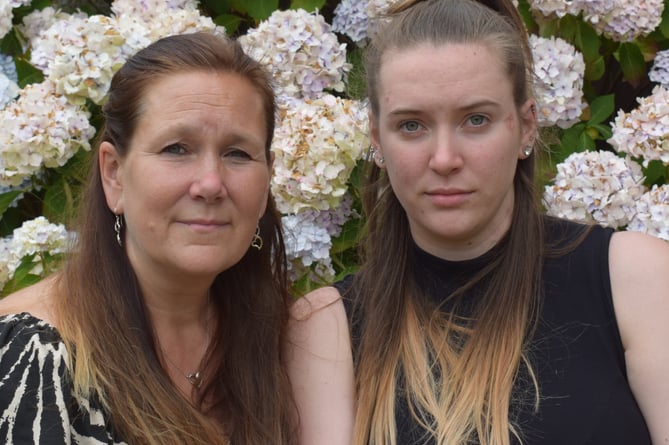 Jody Merelle and her daughter, Lucy Gratton, told of their ordeal at two A&E departments.
(Jody Merelle )
Subscribe newsletter
Subscribe to our email and get updates right in your inbox.
A MOTHER has spoken of the horror of trying to comfort her daughter as she lost her baby in crowded waiting rooms full of sick and injured people desperate for help.
Jody Merelle and daughter Lucy Gratton spent two nightmare late night sessions in the A & E waiting rooms of Exeter and Torbay hospitals.
From the outset Jody said she and Lucy, aged 26, had nothing but praise for the medical teams working under such atrocious conditions and pressure.
Jody, from Dawlish, said: 'The medical staff were fantastic throughout and under terrible pressure.'
Fearing Lucy might be losing her baby and after taking medical advice mum and daughter went to the A&E department at the Royal Devon and Exeter Hospital at 10.30pm on a Sunday evening.
Their nightmare ordeal began in two crowded waiting rooms full of 40 to 50 people seeking` help.
'It was just awful. Lucy was crying because she feared she was losing her baby and I was trying to comfort her as we received no help.
'It seems these days you have to have a miscarriage in public. It was just horrendous.
'It took two hours before Lucy was seen by a triage nurse.
'As she was bleeding heavily she was told to wait to be examined by a doctor.
However after a further wait, at 1am a nurse came to the waiting room and announced to everyone that the delay for anyone to be seen by a doctor would be at least seven hours.
'She apologised and announced that due to the acuity of the situation, staff shortages and waiting ambulances there were currently no doctors to attend to any of us in the waiting room.
'I would say at least a third of the people got up and left without receiving help,' said Jody.
Eventually Lucy received help. Sadly and they were advised to go home it was confirmed that Lucy had lost the pregnancy.
The following night, as Lucy experienced further complications, they was advised to go to Torbay Hospital as Exeter was too busy. They spent five hours waiting for the help they needed.
Jody described conditions in the waiting room: 'There was an old lady with a head wound, she was covered in blood.
'Children were crying. Everywhere you looked people were desperate for help.
'There was one woman who told me she had been brought in having taken an overdose. She was on her own and clearly in need of emotional support.
'I spoke to her to try to comfort her but ideally there should be staff available for support in situations like these. The staff were too busy trying to cope with everything else they had to do.
'Another woman was clearly having a psychotic episode and was talking to herself, but there was no help for her.
'It was absolutely dreadful.'
Jody and Lucy appealed to people who found themselves in the same situation not to take it out on the 'fantastic' staff who were doing the best they could.
'I don't know how they can get up and come to work every day and work under such terrible conditions,' added Jody.
'Something has got to change, this is not sustainable.'
PATIENT SAFETY IS OUR TOP PRIORITY
IN response to our inquires on behalf of Jody and Lucy, Ian Currie, Medical Director, Torbay and South Devon NHS Foundation Trust, said: 'Like many hospitals across the country, we continue to be under sustained pressure in our emergency department.
'Patient safety is always our priority. We always aim to see and treat patients as quickly as possible. All patients arriving at our emergency departments are triaged and assessed with the most clinically urgent being prioritised.
'We would like to offer our sincere apologies to everyone who is waiting for treatment or who has experienced a wait.
'Our thoughts and sympathies are with Ms Gratton at this difficult time.
'While we are unable to comment on individual cases, we would encourage Ms Gratton or her mother to contact our Patient Advice and Liaison Service.
'Anyone who has concerns about the care and treatment they receive from our services can contact our Patient Advice and Liaison Service and we will investigate and respond.
'Our Patient Advice and Liaison Service can be contacted by phone on 01803 655838, freephone on 0800 0282037​​ and by email on [email protected].'
Carolyn Mills, Chief Nursing Officer at the Royal Devon University Healthcare NHS Foundation Trust, said: 'We are deeply sorry to learn about Ms Gratton's experience and our thoughts are with her and her family at this very sad time.
'Along with other NHS services across Devon and the rest of the country, our Emergency Departments continue to be extremely busy.
'Our staff continue to do everything they can to get people the care they need as quickly as possible, and to help us do this, those who come into our Emergency Departments are triaged on a priority basis. This means that those who require the most clinically urgent care are seen first, helping us to ensure that patient safety can be maintained.
'We encourage Ms Gratton and anyone else who would like to discuss their care experience with us to contact our Patient Advice and Liaison Service (PALS), who will listen to and investigate any concerns raised about our services. PALS can be reached by emailing [email protected] or calling 01392 402093.'
Comments
To leave a comment you need to create an account. |
All comments 0