Steaming ahead with railway's 150th birthday celebrations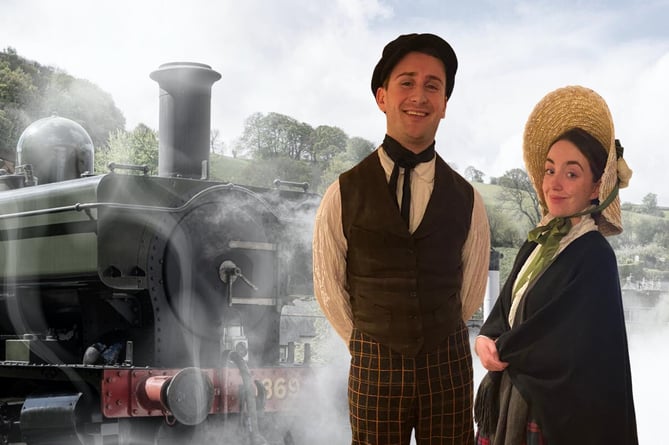 Victorian actors all set for the 150th birthday party for the South Devon Railway on Saturday. Picture: South Devon Railway (APril 2022)
Subscribe newsletter
Subscribe to our email and get updates right in your inbox.
Commemorative tree planting and a visit by the first engine to arrive on the line in its preservation era are among the highlights of the South Devon Railway's 150th anniversary celebrations this weekend.
Visitors are being encouraged to turn up in Victorian clothing too.
The railway was first opened as the Buckfastleigh, Totnes and South Devon Railway on May 1, 1872, running nine miles from Totnes station to Ashburton.
The section between Buckfastleigh and Ashburton was lost when the A38 trunk road was built over the last two miles of line's trackbed in 1971, one year short of its centenary.
A Corsican pine (Pinus nigra), each with a commemorative plaque, is to be planted at all of the South Devon Railway's stations, at Buckfastleigh, Staverton and Totnes Riverside.
These trees were, and still are, a familiar site on stations of the former Great Western Railway (GWR) who regularly planted them across the West Country.
Centre stage will be the appearance of GWR locomotive number 4555, now owned by the Dartmouth Steam Railway. 1924-built No. 4555 was the first engine to arrive on the line in 1965, after its closure some four years earlier by British Railways, and was a regular performer on the line in BR days, having been shedded at Newton Abbot.
Over the weekend, 4555 will be operating with former GWR coaches, including 'Clerestory' saloon 9044, built in 1881 and believed to be the oldest surviving GWR bogie coach in existence. 9044 was originally used as a family saloon; it has supposedly seen passengers who include King Edward VII, then Prince of Wales, and opera singer Madame Patti.
In 1936 it was converted to a Civil Engineers Saloon and was travelled in by officers of the Great Western Railway and then British Railways until it was withdrawn in the 1960s. The carriage was restored to use in 2013 and has since operated on special days from its home on the Bodmin and Wenford Railway.
South Devon Railway general manager, Ernest Elsworth-Wilson, said: 'This promises to be a fantastic event, celebrating 150 years since the railway opened. There will be lots happening and we are very hopeful that many visitors will be dressing up in Victorian clothing to help us celebrate this important milestone in our history.'
l For more details visit the website at www.southdevonrailway.co.uk.
Actors in Victorian dress will also be touring the railway, storytelling and recounting the history of the line since its construction in 1872, when it was built under the guidance of Isambard Kingdom Brunel.
The arrival of 4555 is a welcome surprise, as Ernest Elsworth-Wilson explains: "We are delighted the East Somerset Railway, who had the loco on hire, and the Dartmouth Steam Railway have agreed to our hire of 4555. We had planned to have a Victorian locomotive from the Severn Valley Railway, but sadly, this week, the locomotive failed so we have had a frantic, but ultimately successful search for a replacement!"
The 150th celebrations take place over the Bank Holiday weekend, 30th April to 2nd May, with an intensive service of steam trains on all days, including goods trains and push-pull 'auto trains'.
More details are available on the railway's website at www.southdevonrailway.co.uk.
Comments
To leave a comment you need to create an account. |
All comments 0