When the rat pack paid a visit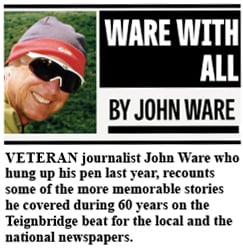 Subscribe newsletter
Subscribe to our email and get updates right in your inbox.
BACK IN 1976 reports of swarms of vermin at Teignmouth docks made headlines.
Rats, rats, some as big of cats are infesting part of the docklands, and the problem is so bad that dockers have started shooting them with .22 rifles while the authorities think of more effective ways of wiping out the colony
There have always been rats around the docks of course, but they increased dramatically when the grain stores were build a couple of years ago.
The big warehouses can accommodate up to 5,000 tons of wheat and the vermin moved in for the feast of a lifetime.
Some people estimate the number of rats in the area runs into thousands, and they have found a ready made meeting ground in the loose rubble that was dumped around Polly Steps for the ill-fated marina project.
With such an ample supply of food nearby, many of them have become quite big and bloated, and witnesses say that quite a few of them are as large as cats.
Some are so lazy they can often be seen lying out in the sunshine and generally scuttling around in the daytime, an easy target for the marksmen who have managed to kill dozens of them.
They are much more in evidence at night, and hundreds can be heard running around near the grain stores.
Residents living in the area are quite alarmed at the increasing numbers of the rats and fear they could be a health hazard.
Already some have crossed the main railway line, and into Bitton Park.
While it is unlikely they will venture too far while there is such a plentiful supply of grain available, the big worry is that they could start heading into the town if the instant meals were suddenly cut off.
The Teignmouth Quay Company and the environmental health department of Teignbridge council are both well aware of the problem, and doing their best to overcome it.
Rat poison is regularly laid down, and a public health inspector visits the site daily.
But with such a rich food supply at hand, the rats tend to ignore the normal bait, and, as Mr Bernard Young the Teignbridge chief environmental health officer puts it: 'We are trying to prepare a more appetising meal for them.'
He is hopeful the rat colony can can be drastically reduced in a few weeks.
While the grain stores have come under fire from some quarters for causing the problem, port officials point out that the trade is helping to keep jobs in the town.
With a slump in the main cargo of ball clay, the grain imports from the Continent, which are used as animal feed and distributed all over the west of England, are proving useful for the Teignmouth economy.
Comments
To leave a comment you need to create an account. |
All comments 0