SEAN Ayre's first-half double helped Teignmouth to a 3-1 win over Sidmouth Town in a pulsating Peninsula League bout on Saturday.
Ayre had two before the half-time interval and SIdmouth's lifeline came from Jamie Vaughan-Ryall in the same stanza but Teignmouth struck again through Jack Baxter in the second half.
'Our form has been sporadic but performance-wise we've been superb,' said Teigns boss Liam Jones.
'We're in good form but on paper it's not looked great. We were due one where defensively we were a bit tighter – it's a shame we didn't get the clean sheet – and we were a bit more clinical in attack. 
'We're scoring goals – I think we're averaging three a game, but we're also averaging three goals at the other end which is causing us some problems.'
Teignmouth started positively, and on 10 minutes came excruciatingly close to opening the scoring. Baxter did well to worm his way out of the left corner and drill in a cross which Ayre glanced on goal, only to be kept out by a jaw-dropping reaction save from ex-Teigns goalkeeper Zach Lee.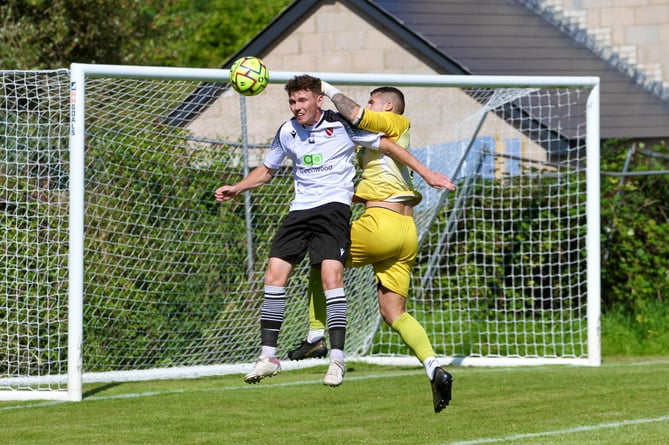 Zach Lee, right, comes out for an aerial battle with Brad Breslan.
(Josh Goodman)
But Ayre would only have to wait another three minutes for his third goal of the season, and it came in mouthwatering fashion too as, from some 25 yards, he lashed a bouncing ball into the top corner on the half-volley.
Ayre doubled his tally for the day nine minutes later. Captain Isaac Reed whipped an inch-perfect corner delivery in towards the front post and Ayre met it with a towering header, leaving Lee hapless in the Sidmouth goal.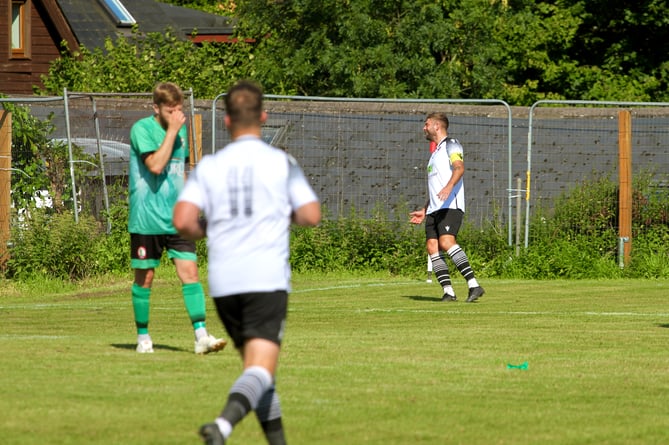 Isaac Reed, right, celebrates Ayre's second goal.
(Josh Goodman)
'We pride ourselves on going forward,' Jones explained.
'We've got some very good attacking players, so we know we're going to score goals – there's no doubt about that. We've just got to make sure that we're not loose and we're not caught out of possession in that transition stuff; we've just got to a little tighter. 
'We will continue to score goals but we just have to find a balance which we're still searching for – but I think we're getting closer.'
Sidmouth clapped back on the half-hour mark when they broke forward with Tiernan West, who hooked a pass across for Vaughan-Ryall to tuck home from a pocket of space in the box.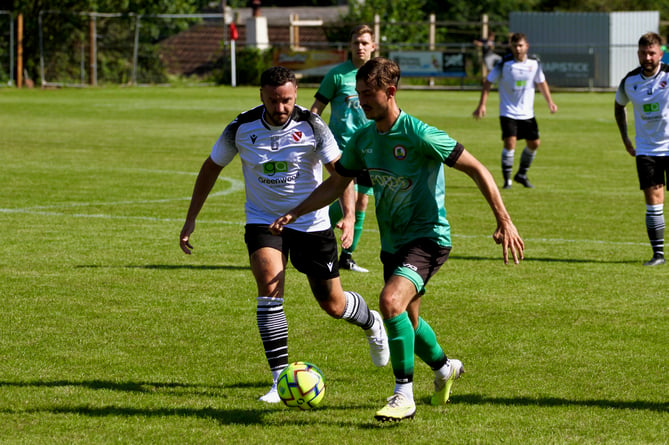 Sidmouth scored after a much-improved end to the first half.
(Josh Goodman)
'Let's not be overly critical because I've got an 18-year-old centre-half and a lad who doesn't usually play centre-back playing alongside him, and we haven't got our right-back because he's away travelling,' Jones said. 
'We're trying to piece together a back five, which year-on-year we have to try and do. We've just got to be a little bit patient with them but they will improve with game time.'
Behind them was 17-year-old Tom Seymour. The Teigns goalkeeper bailed his defence out on several occasions, producing heroics to keep the lead intact.
'Tom was superb,' Jones said. 
'He's been really good this season, and fair play to him because he was a bit wobbly at Stoke [Gabriel & Torbay Police] but apart from that he's been excellent. We lost Zach [Lee] and we can't delve into the market for an option, so Tom, who played for our under-18s last year as a 16-year-old, stepped up and we will continue to trust him. 
'We've got a real young side, so every now and again we're going to make mistakes but I think if we continue to trust them, they will give us more than they won't come the end of the season.'
After sustaining a lengthy period of pressure, Teignmouth turned the screw and grabbed a crucial goal to restore the two-goal cushion. Ash Donohue, who was uncharacteristically quiet in front of goal, bursts past his man on the left flank and squeezed a square ball underneath a retreating defender, beating Lee and finding Baxter sliding in at the far post to bundle home.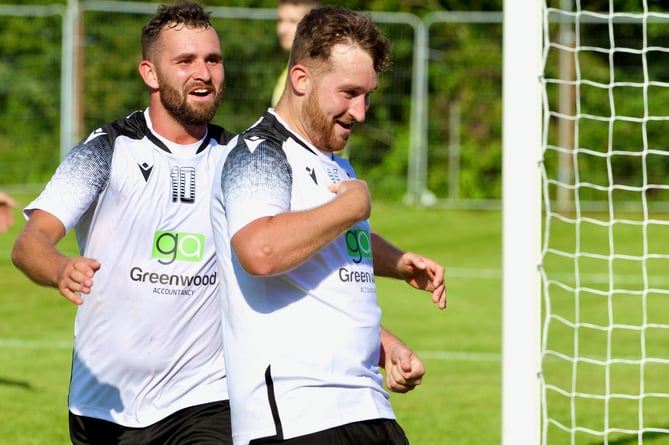 Jack Baxter, centre, is joined in celebration by Sean Ayre.
(Josh Goodman)
'Nobody wants to go into the last 10 to 15 minutes with only a one-goal lead,' Jones said of the importance of the goal. 
'Sidmouth are a really good side; Bill [Billy Rouse] has got a great team. There's not really a team in this league that's not at it. There are times when you have to sustain a little bit of pressure and just make sure that you don't concede, and the important part is that we didn't concede, we were willing to get blocks on and Tom had to make a couple saves. 
'But let's not pretend that we won't concede chances – Sidmouth are too good for us to keep absolutely quiet. The goal we conceded was our own fault and a sloppy mistake but, apart from that, we were solid.'