BENTLEY Alcantara's strike at the death completed a thrilling comeback as Elburton Villa beat Newton Abbot Spurs 3-2 in the FA Vase First Qualifying Round on Saturday.
Spurs led by two at the half-time interval through goals from Will Hancox and Callum Noyce but a second-half turnaround with goals from Alcantara (2) and Corradi Crossfield saw Villa add their name to the hat for the next round.
'It's disappointing because I thought we dominated it but we didn't do anything in the second half that we did in the first half to get us into that 2-0 lead,' said Spurs boss Marc Revell. 
'We need to be happy at 2-0 and see the game out. First half, we went direct like we did against Dartmouth and Elburton here last week, but my lads seem to get overconfident in a 2-0 lead and want to score three, four, five or six. 
'There are little things that I can put my finger on but it's hard to do the in-game management side of things all the time because they should know that themselves.'
Spurs got off to a fast start, chalking up the opener just 10 minutes in. Winger Owen Green did well to hold off several challenges from a keen Elburton rearguard and somehow squeezed a square ball across for Hancox. On the edge of the box, the midfielder was unbalanced by a trip but managed to slot home into the bottom corner.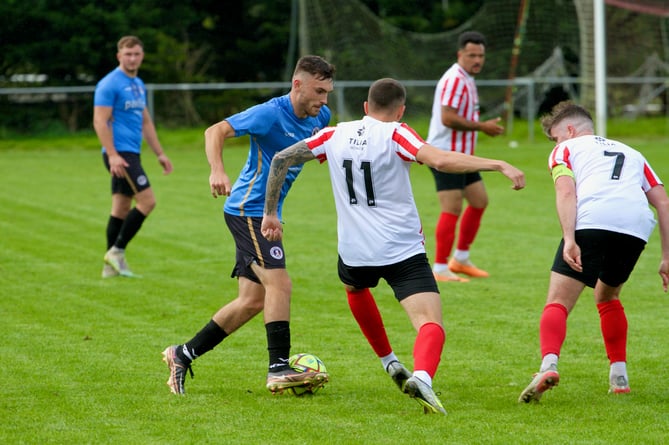 Owen Green, second from left, steers the ball away from a challenge in the run-up to his assist.
(Josh Goodman)
The visitors kept the pressure on and were unfortunate to not add to their advantage as Finn Pearse and James Moxon both saw efforts denied by the woodwork.
But Spurs did double their lead just past the half-hour mark. Noyce, who was a thorn in the side of the Elburton defence, beat his man with quick feet and dinked the onrushing goalkeeper but was brought down for a penalty by the gloves-man in the process. Noyce stepped up and stroked home from the spot to put Spurs two to the good at half-time.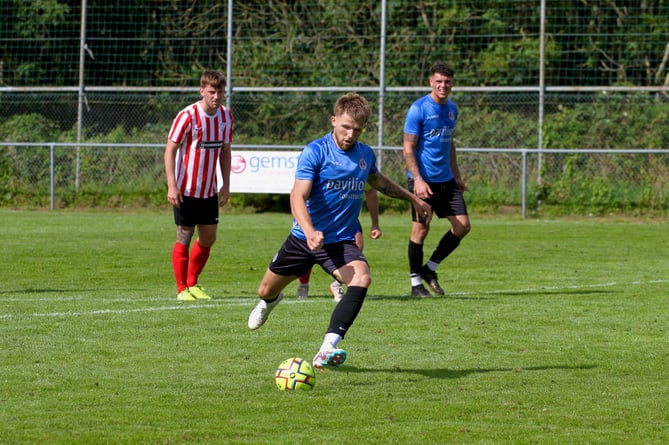 Callum Noyce tucks home his penalty.
(Josh Goodman)
'Callum's won us three games this season already and we certainly missed him as an outlet when he went off,' said Revell. 
'He punished [Elburton] down here last week and he did today, but he had a dead leg and asked to come off at half-time – maybe I should've said no!'
It took only five minutes from the restart for Elburton to get one on the board. A cross tempted Spurs 'keeper Kit Glanville into an ill-advised venture off his line and he mistimed his punch, allowing a header back across to fall for Alcantara to smash into an empty net.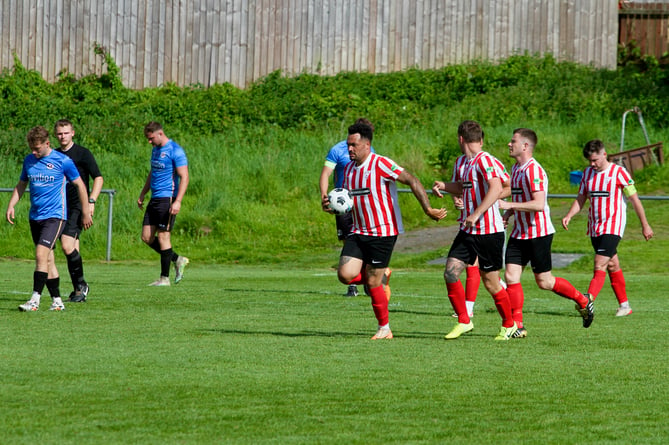 Bentley Alcantara carries the ball back to the halfway line after scoring Elburton's opener.
(Josh Goodman)
The sides were level-pegging nine minutes later when Lewis Edwards floated a delightful free-kick in to the back post where Crossfield met the delivery with a towering header.
'We can't seem to turn a tide,' Revell admitted. 
'When momentum's in another team's favour we really struggle. We started well and I didn't even criticise them at half-time – there was nothing to say. It's nice to have a half-time team talk where you don't have to say too much but then, when that happens, you feel like you should've said more.
'It's still the naivety of two years ago when I started here. I've always said that you can't expect a team to mature week on week. They'll become less naive and become more mature and more experienced by having more experiences. 
'But they've got to start showing signs of it; I've kept this group together and we're a good young bunch – I don't want to bring in older, wiser heads.'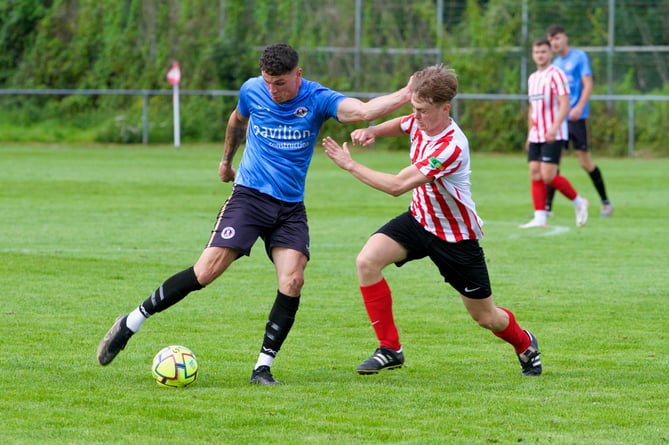 James Moxon, left, looks to pull the trigger.
(Josh Goodman)
Spurs saw a chance to regain the lead go begging 15 minutes from time. Clever work on the left flank from Harry Ford attracted two defenders across and he slipped a delicate ball into a pocket of space for the arriving Theo Ramsey, who drilled under the goalkeeper but saw his effort crash back off the base of the post.
Heartbreak struck Spurs on 90 minutes when Alcantara stormed forward on a counterattack and lashed home a superb finish across goal.
'Bentley [Alcantara] is a s***house, and he was s***housing even when they were 2-0 down because it has an effect on the team that you're playing,' Revell explained.
'And then when it got to 2-2, he gets the winner; he's ultimately s***housed the whole of our side by playing 'the game' all the way through in terms of being the clown and it's affected my lads' mentality.'