A SCRAPPY Chris Wright goal helped Ivybridge Town to a 1-0 win over 10-man Teignmouth at Erme Valley on Saturday.
Wright found the net shortly before the half-time interval as league leaders Ivybridge extended their unbeaten run to 10 games and punished a makeshift Teigns side.
'It's disappointing – I felt we could come here and get something,' admitted Teignmouth boss Liam Jones.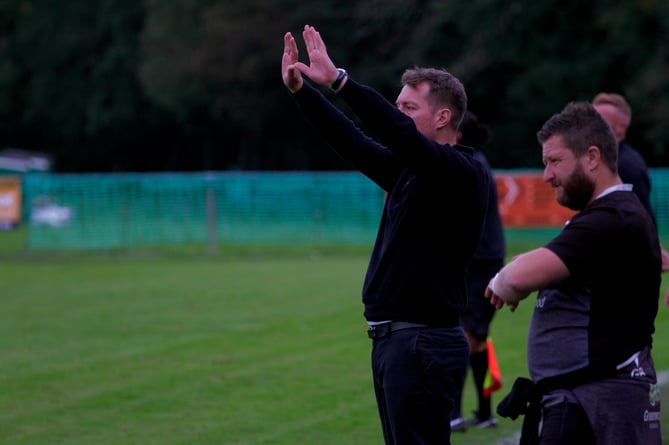 Teignmouth boss Liam Jones.
(Josh Goodman)
'We set up to do that but we lacked a little bit of quality and braveness in the first half and they punished us with a scrappy goal. Then we get a stupid red card and before you know it we're up against it. 
'The result, on paper, will look like an alright one but I think we're disappointed because we had a bit more about us to come here and get something.'
Teignmouth have had a rocky start to the season plagued by injuries and absences, particularly among the defensive ranks. Striker Jack Baxter, who has five goals to his name this term, donned the goalkeeper's gloves in place of usual shot-stopper Tom Seymour and put in an assured display – albeit unorthodox at times.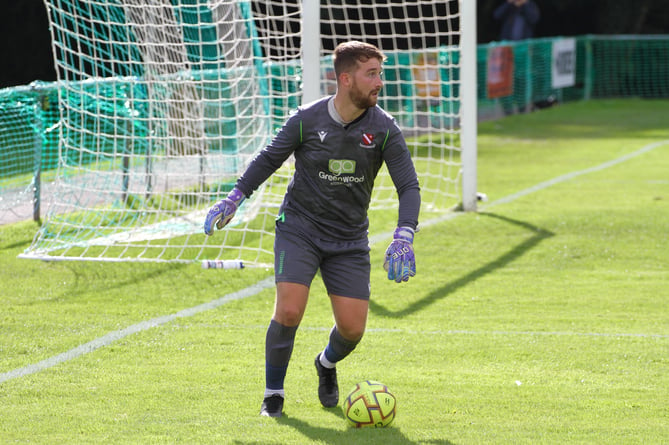 Teignmouth forward Jack Baxter volunteered to play between the sticks – and he did very well.
(Josh Goodman)
'Tom said this morning that he's got something wrong with his eye,' Jones said, 'and so I made several phone calls to try and get someone in and we were struggling, so ultimately Jack is our back-up 'keeper – if anyone ever gets injured he'd go in and he played there a few times when we won the Devon League. 
'He's a competent footballer – he's not a goalkeeper as you could probably see with some of the unorthodox saves but he did us a job and was excellent. It's not the ideal scenario seeing as he scores goals and creates for us and then we've got to put him in goal at the league leaders.'
Baxter was only beaten on 37 minutes. A teasing delivery across the back of the Teigns rearguard was met by a Connor Rush header at the far post, which Baxter saved but did not see cleared as Wright was first to react and scrambled home his fourth goal in two games.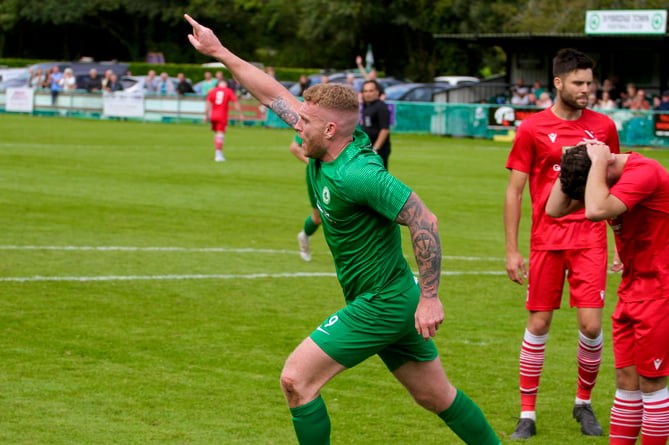 Chris Wright wheels away in celebration after putting Ivybridge in front.
(Josh Goodman)
'Whether we've lost by one or five, we've still given away a poor goal,' Jones said. 'We've been poor first half, we've not really gotten amongst them and we didn't really try play football, and you can't do that, wherever you go. 
'Second half we got in amongst them and we were willing to pass the football, we did the right things but, like I said, on paper the score looks respectable but we've not come here to minimise the score, we've come here to turn over Ivybridge, and I thought we had the ability to do that in the side but we've not been able to put it into practice.'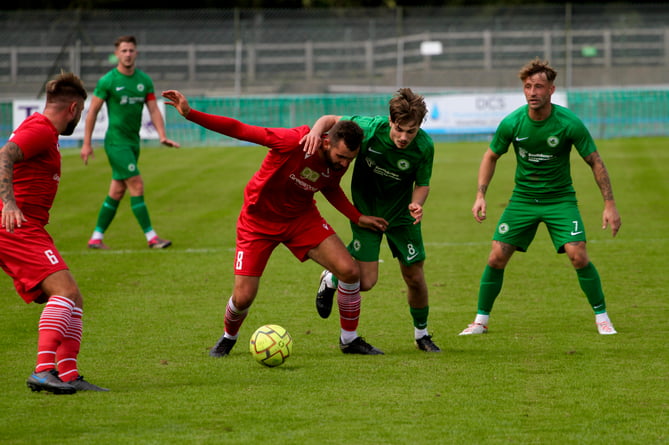 Sean Ayre, left of centre, and Rio Daly battle for possession.
(Josh Goodman)
Teignmouth looked a better outfit in the second stanza and applied the occasional pressure on Kane Gregory in the Ivies net. Down the other end, Baxter produced a phenomenal double-save as he paddled the initial shot downwards and halted the follow-up with an acrobatic stop with his feet.
But as they grew into the game, the Teigns suffered a setback as sprightly forward Ash Donohue was given his marching orders for dissent towards the referee.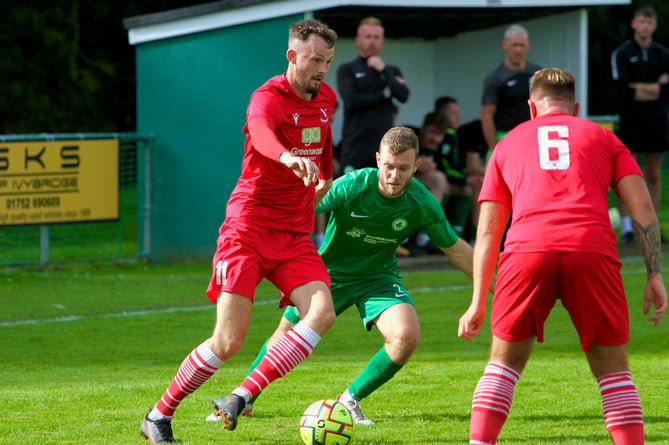 Ash Donohue, left, was shown a red card for dissent.
(Josh Goodman)
'Absolutely [it changed the outcome],' Jones said. 
'We ended up playing for half an hour with 10 men, which you can't do at the top of the league. It was stupid – Ash is an experienced player who doesn't need to speak to the ref. 
'I think it's difficult to come here because we know what Ivybridge are like; the bench shout, everyone shouts and he's been caught up in it really. Ash deserves his red card – he's just got to be cuter than that. 
'We can't then go chasing the game with 10 men on a huge pitch. We got the opportunity to nick something with him on the pitch; we weren't really creating much after that.'