NEIL Last's goal at the death saw Bovey Tracey rescue a deserved point after a 1-1 draw with Ivybridge Town on Wednesday night.
Last scored in the fifth minute of injury time, snatching back a point after Bovey had fallen behind in the 89th minute to a goal from substitute Bailey Mabin.
'I don't know why, but this year we've been a second-half team,' explained Bovey boss Will Small. 
'First half we were very poor but we changed the shape, changed a few faces and then second half I thought we were on top. 
'We didn't really give them a sniff too much, then our ill-discipline and our lack of being able to keep our mouths shut put us down to 10 men [as Lewis Perring was sent to the sin bin] and then the impetus is on them and the game swings back their way and we're trying to fight our way back into the game again. 
'[Mabin] has hit that one from 30 yards into the back of the net – it's a worldie but he never scores that again. We were a bit unlucky because they didn't create anything at all second half other than that one shot. 
'But we kept going until the final whistle – that's what you've got to do – and on reflection we deserved a point.'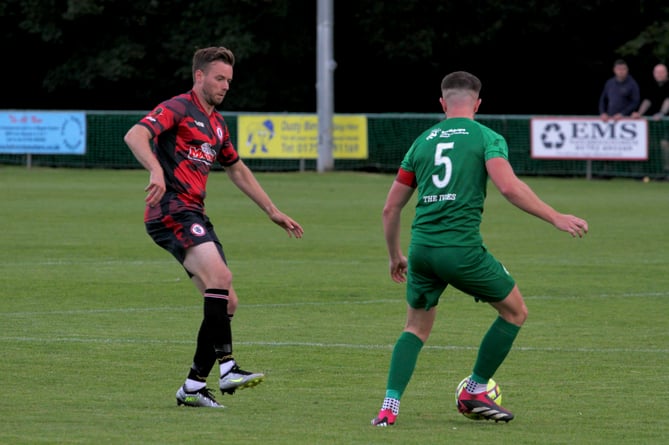 Bovey's Neil Last, left, closes down on the ball-carrier.
(Josh Goodman)
It was very much a tale of the two defences. In the first half Bovey weathered something of a storm from their hosts, who were unfortunate to not convert their pressure into a lead. Bovey goalkeeper Dom Aplin produced several fine saves to keep the Ivies at bay but they largely lacked a clinical edge. 
'First half, with the way we set up, our game plan didn't work,' Small admitted. 
'People didn't work hard enough in the first half but as soon as we changed that and went to a four at the back and the new personnel came on, I thought we were comfortable in the game, so possibly that's something that we gambled on that didn't quite work but our Plan B and our Plan C did.'
Small tinkered with his side in the second half and, as has been the theme of the Moorlanders' Peninsula League season so far, they were far better after the break. Among the changes was the introduction of sprightly wingers Alangel Joseph and James Watts-Barciela, who were both instrumental in the Bovey fightback.
'Both of them are unlucky not to start,' Small said. 
'They're playing very well and it is a hard decision to leave them out but knowing that when people are tired and legs are dying in the last half-hour or so, those are great options to have and they were both terrific tonight. 
'It's comforting knowing we have that depth, and for the players it's nice to know that. If they're not performing we have a Plan B and we have a Plan C. We changed formations three times tonight and made all five subs and we've got the result, so we've got the personnel there to do it. 
'I think the lads now have that belief in each other and in themselves that wherever we go and whoever we're up against we can give them a game and get a result.'
Ivybridge pushed their noses in front on 89 minutes when Mabin thumped home a wonderful effort from long range.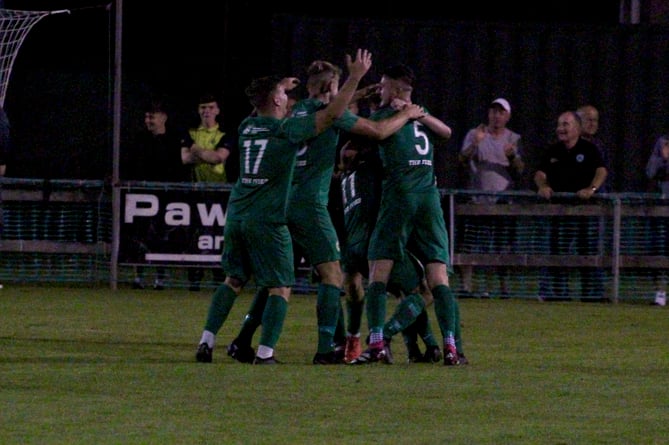 Ivybridge Town players celebrate Mabin's go-ahead goal.
(Josh Goodman)
But instead of sitting back and protecting their slender lead, the Ivies went on the hunt for another, which allowed Bovey to get in behind. 
The exposure would tell in the fifth minute of injury time. Seventeen-year-old Watts-Barciela carried the ball along the right flank and somehow kept hold long enough to squeeze a cross in for striker Ollie Aplin. His looping header crashed off the crossbar and was met on the rebound by Last, who put enough pressure on goalkeeper Kane Gregory to eventually win the goal-mouth melee and poke home a deserved equaliser.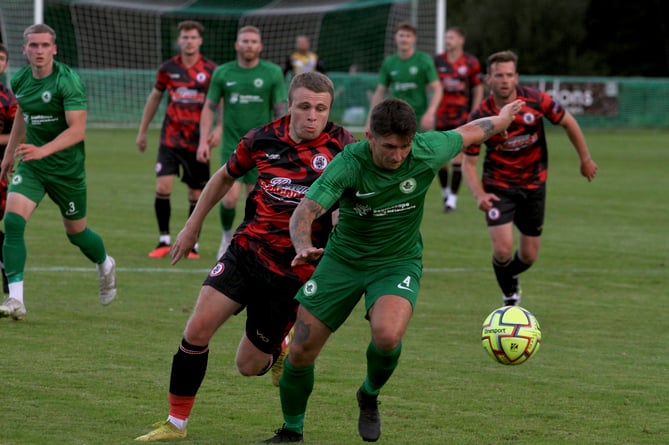 Ollie Aplin, left of centre, headed the ball off the crossbar in the run-up to Bovey's equaliser.
(Josh Goodman)
'I think our final ball was very poor throughout,' said Small. 
'We exposed them a few times where we could've gotten in in the first half but that pass in behind wasn't right when we had acres to put it into. We probably didn't get enough shots off but we should've had a stonewall penalty in the second half – how he's not given that I don't know. Griff [Dan Griffiths] stayed on his feet instead of going down because he's trying to be honest but he's been absolutely clattered. 
'But there's plenty of positives; these [Ivybridge] lads are unbeaten, every game they're flying and this is their home pitch so they would've been expecting three points but for us it's massive – we're still undefeated and we take it on to Tuesday [away to Dartmouth].'