TWO injury-time goals saw Newton Abbot Spurs snatch a 3-1 win from Okehampton Argyle in a pulsating Peninsula League battle on Wednesday night.
Goals from Spurs men Gavin Collins and James Moxon snatched victory from the jaws of defeat in dramatic fashion as Okehampton plundered their guests' net after Charlie Harrod's equaliser had nullified a first-half effort from Sam Barnes.
'It was magnificent from the lads,' said elated Spurs boss Marc Revell. 
'We've rode our luck massively in the second half and I said to the lads that it would be backs to the wall, especially here with Okehampton shooting downhill – that's when they put a lot of pressure on.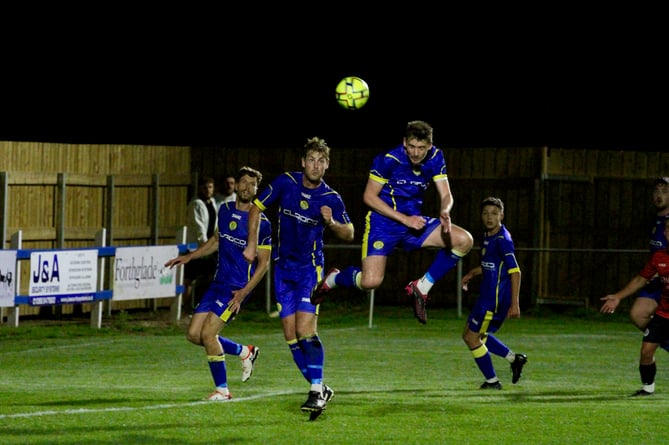 Okehampton beat the offside trap late in the game, but the header would go on to crash off the post.
(Josh Goodman)
'It's fantastic for the lads but that's what we've always had in us; sometimes we dance on the cusp of losing games like that because we commit quite highly – we still had three men up top in the second half – but when it pays off, that's what you get from it. 
'The lads deserved it after not getting the win on Saturday against Axminster [Town], to come up here and be as good as we were in the first half, as much as I knew 1-0 wasn't enough to be comfortable the lads were brilliant.'
Spurs started the stronger of the two sides and pushed their noses in front at the midpoint of the first half when an inch-perfect corner delivery was nodded home by Barnes – something of a collector's item for this Newton side.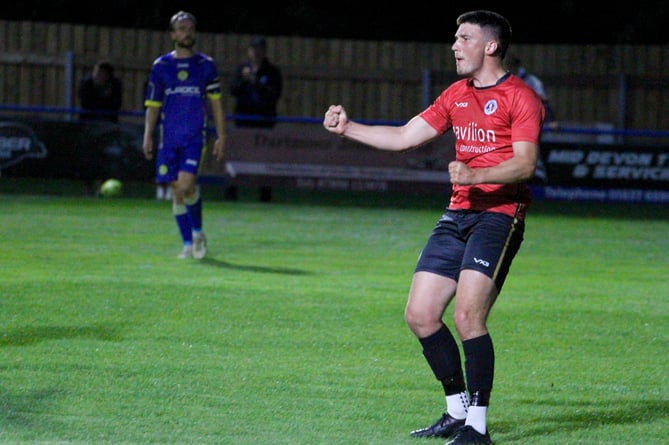 Sam Barnes triumphantly celebrates his goal.
(Josh Goodman)
'I was shouting to the lads to take the corner short just before they swung it in because we never score corners, so it was nice to see it went in,' Revell explained. 
'I've said in the past that we need to get more goals out of midfield. We score 70, 80 or 90 goals a season and a lot of them come for our front three. Every good team in the league scores a lot from midfield.'
Okehampton may have been down but at no point were they out. The hosts turned the screw after the setback and applied a heap of pressure on the Spurs defence, which stood firm – sometimes by the skin of their teeth – to see the lead stay intact going into the half-time interval.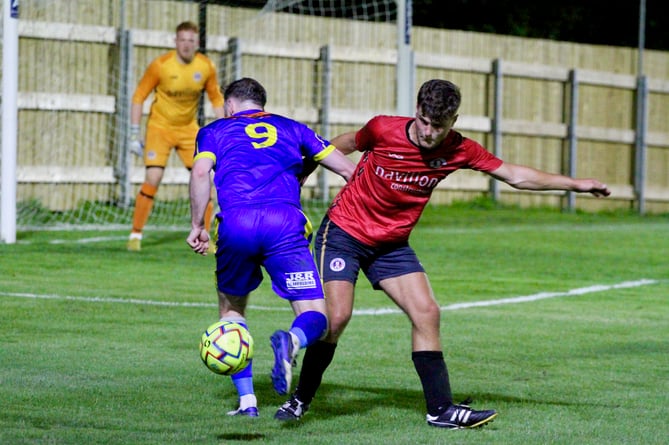 Okehampton's Brad Ausden, left, is dispossessed by Calum Fyfe as he breaks into the box.
(Josh Goodman)
'When you go in at 0-0 having dominated for periods of the game, you don't feel like you've got any reward for what you've done,' Revell said. 
'But it doesn't half give you a lift when you get a reward for the pressure you put on teams. I told them they'd have their work cut out to keep it at that, which we massively did. I'm buzzing for the lads.' 
Having put up a brave but exhausting fight for so long, it was inevitable that the Spurs rearguard would eventually crack. On 69 minutes they did just that as Harrod squeezed home an equaliser with the help of a wicked deflection that wrong-footed Kit Glanville in the Newton goal.
'I even would've taken the point at 1-1,' Revell said. 
'I know it's disappointing to dominate the first half and for them to have so many chances to score but I still think I'd take 1-1 up here, and that's why the lads were absolutely brilliant at sitting deep, sucking up the pressure and doing what they did.'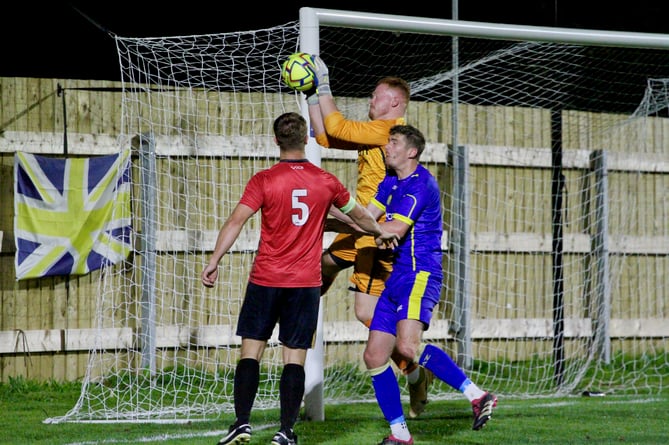 Spurs goalkeeper Kit Glanville plucks the ball out of the air.
(Josh Goodman)
The Okes were in the ascendency after their leveller and continued to ask questions of their visitors. The golden opportunity came – and went – in injury-time as the ball was hooked across the box from the right for Jake Rowe, who had wriggled into a pocket of space in the centre of the box. Rowe miscued and blazed his effort over the crossbar.
Rowe would rue his miss moments later. Spurs broke away on the counterattack and took advantage of the threadbare Okes defence to find Collins in the middle on the edge of the box, and with goalkeeper Jimmy Weeks traversing his line to cover the far post, he smashed the winner into the bottom corner at the near upright, sparking wild celebrations which spilled from the dugouts onto the pitch.
'I've started to demand it from the lads but I've also asked them to be a little bit more workmanlike and grind out results,' Revell said. 
'We needed to dig a little deeper, and if we stick with that philosophy and that ethos I think we will get a few more results like that this season.'
There was still time left in the eight additional minutes for Spurs to add gloss to the scoreline. A tame back-pass from an Okehampton centre-back allowed Moxon to nip in, dink the ball over the onrushing Weeks and compose himself before tapping into the vacant net.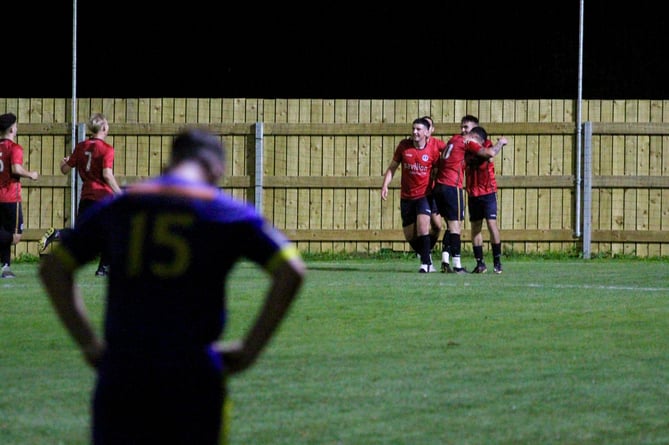 Spurs players surround goal-scorer James Moxon.
(Josh Goodman)
'We've got probably the fittest team in the league with an average age of 23 or 24, and they will never stop,' said Revell. 
'When I've got Toby [Pullman] dying and Noycey [Callum Noyce] dying, I have Theo Ramsey and Owen Green – spring chickens – to bring on, and I wouldn't want to defend against that. I think they'll roll on for this with a bit more belief than they had before. 
'We've got a tough run of games, so to take the two results we have so far [0-0 against Axminster and 3-1 at Okehampton], I think the lads will only grow in confidence and take it into next week at home to Sidmouth [Town].'