TOBY Pullman's double helped Newton Abbot Spurs to a 4-1 win over Stoke Gabriel & Torbay Police on Tuesday night – their first league victory in four.
Pullman starred with a pair of penalty conversions and an assist as Theo Ramsey and substitute Callum Noyce joined him on the score sheet to nullify a fist-half effort from Joe Aldous.
'I thought the boys started off really well,' said stand-in Spurs boss Jimmy Clutton, 'and in the first 30 minutes the game should've been over.
'We created numerous chances, did really well to get the two goals that we did, created good opportunities and passed well. We know they [Stoke] are a good footballing side and like to play football; they're young, enthusiastic and never stop, and credit to them.'
Spurs made the initial breakthrough on 16 minutes. A Will Hancox cross was floated high across the box and appeared to be eluding everybody until a determined, later run from Ramsey met the delivery at the far post and he turned home his first goal in Newton colours.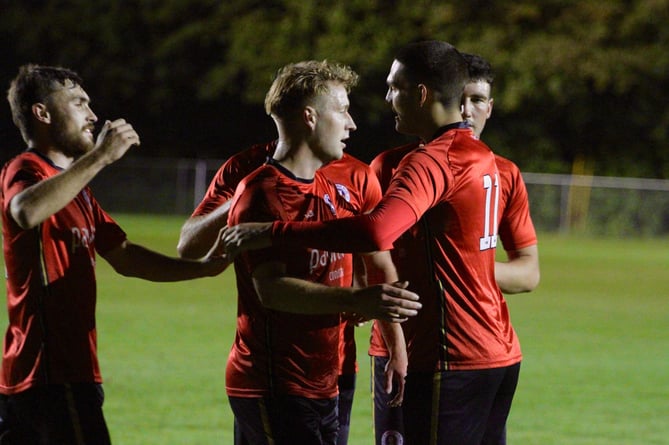 Opening scorer Theo Ramsey, right, embraces provider Will Hancox.
(Josh Goodman)
The lead was stretched to two 10 minutes later. A long ball forward was chased down by Pullman, who cleverly dinked the ball over onrushing goalkeeper Joe Moroney and was clumsily felled for his troubles. Pullman stepped up to the subsequent spot-kick and drilled it into the bottom-left corner.
'Toby has probably been our man of the match for the last two or three games since we put him up there as a number nine and more of a focal point instead of playing as one of the two wingers,' Clutton explained. 
'He is a confidence player, and when his confidence is high you can see how good he is.'
Spurs appeared to be in control of the game but a shaky rearguard allowed Stoke to make inroads towards reeling them in. Nine minutes before the half-time interval, Aldous struck into the bottom-right corner having been afforded a pocket of space 25 yards from goal.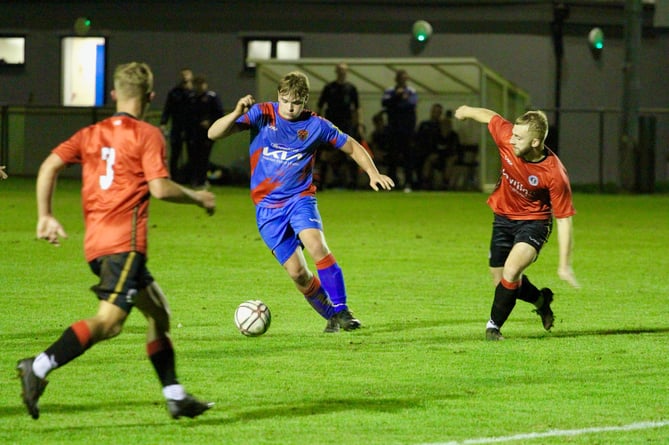 Stoke Gabriel carry the ball forward as Spurs slowed down towards the end of the first half.
(Josh Goodman)
'We got to half-time and me and Si [Revell] were disappointed because in the final 15 minutes we didn't do what we had started to do in the first 30,' Clutton said. 
'Toby missed two very simple chances; the one-on-one with the goalie and the header which we thought was even easier, but the play up until that 30-minute point was really good, and Stoke have come off the back of three or four very good wins, so to go in 2-1 up at half-time we were disappointed. 
'We were disappointed to not take more chances and kill the game, and that's always been our Achille's heel; we seem to go 2-0 up in a number of games and then constantly end up conceding, which we did just before half-time.
'The aim for the second half was to start well, limit chances but not commit too much forward because we were winning and what we were focussing on was not conceding, and I think we did really well.' 
The insurance goal came on 78 minutes, again from the penalty spot. Pullman was again the man brought to ground to earn the kick, and he tucked it home with near-identical aplomb to his first.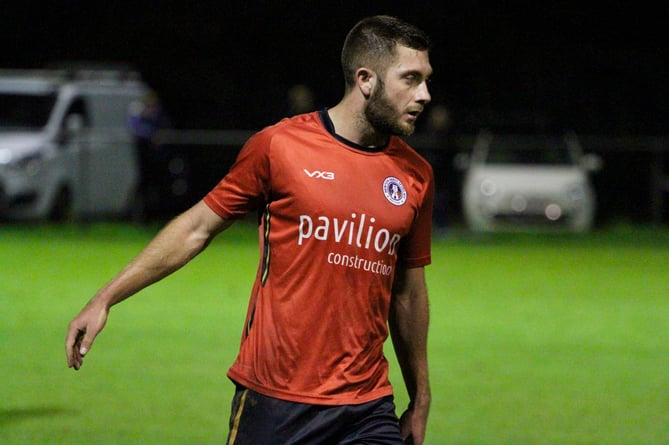 Toby Pullman earned two penalties and thumped both home.
(Josh Goodman)
'I think he's better with his back to goal,' Clutton admitted. 
'Right-footed defenders don't like left-footed attackers turning on them, and that was the issue with the two tackles that were made on him. He never stops working and his confidence is high at the moment coming off the back of a few really good performances. 
'Confidence, for Toby, is key and at the moment he is full of it.'
Further pain was inflicted in the final stanza as substitute Noyce joined ball-carrier Pullman on a rapid counterattack and made no mistake in smashing underneath the goalkeeper.
'I thought when we introduced Noycey [Callum Noyce] the lads were starting to get a bit leggy and we got Sam Hancox on for a bit of experience and James Moxon came on and then we started to open them up again,' Clutton said. 
'I think our fitness told in the last 20 minutes, more so than them trying to chase the game. I think the scoreline reflected the game in the end and it was a pleasing result – Stoke are no mugs and they play some really good football.'