SUE Tremlett, Ruth Johnson and Karen O'Brien attempted to tame the Blackdown Beast on Saturday, January 28, writes James Saunders.
The Honiton Runnning Club-organised run is described as a social 16-mile run with lots of beautiful countryside, great company and mud! A 10-mile shortened version was also on offer with transport arranged to bring the finishers back to the start at the Skydive Centre, Honiton.
The run was split up into four legs. Leg One was 7.25 miles to Smeatharpe Village Hall where mulled wine and a pasty was consumed. Leg Two was Smeatharpe Village Hall to the Sidmouth Arms, Upottery (2.8 miles), Leg Three was Upottery to the Luppitt Inn or Village Hall (3.3miles) and Leg Four took runners from Luppitt to the airfield at Dunkeswell (2.7 miles).
The self-navigating route offered a wide variety of trails, country lanes and paths through the beautiful countryside and panoramic views – which of course meant hills. There was over 2000 feet of elevation.
Sharon and Paul Sharples travelled East to Walton-on-Thames to compete in the Day at the Movies charity run organised by Phoenix Running, hoping to notch yet another marathon.
The seven-hour timed event took place on Saturday, January 28, and the scenic 5.3k course was an out-and-back flat lap along the Thames towpath. All proceeds from the event will go towards the Rays of Sunshine charity.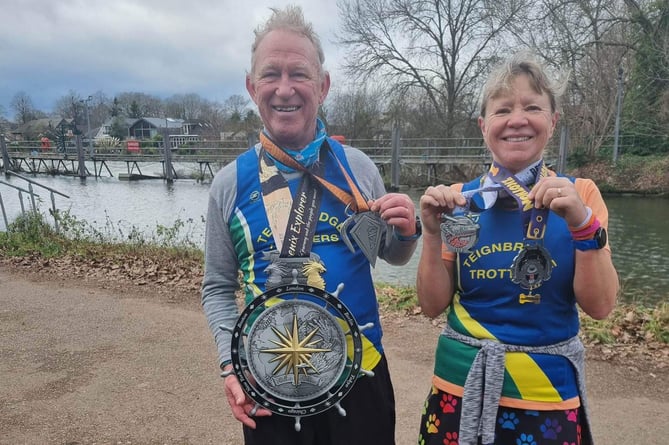 Sharon and Paul Sharples with their medal haul
(Contributed)
Sharon and Paul ran together and completed the marathon in 05:14:44; this took their marathon tally into the eighties!
The running-mad couple then decided to double up on the Sunday while taking part in the Hawker Challenge Charity Run on the same course as the day before.
Sharon and Paul gritted it out to clock a time of 05:50:39.
---
On January 26, Wendy Goldthorp headed down to Cornwall to take part in the Arc of Attrition race. This is a 100-mile ultra-marathon going along the South West Coast Path from Coverack, all the way around Lands' End and finishing at Porthowan.
Although the 36-hour cut-off seemed quite generous, the competitors had to carry a compulsory kit, climb 13,917ft and there were strict cut-offs around every 20 miles, with a couple of others thrown in for good measure.
Wendy quite enjoys a gruelling long race, so it ticked a lot of boxes. She had five-and-a-half months to prepare, which involved a huge amount of hard training. Joe Hornsby, a coach at the Trotters, created a training plan to fit around work and home life, which worked really well.
Wendy joined the start line at midday Friday along with 395 other runners.
She heeded the advice given to try and get ahead a little in the beginning as for several miles you are running a lot of the way on a single-width track with limited opportunity to pass.
Wendy's all-female crew consisted of two local triathletes who kindly volunteered to help having put out a request in the Arc Facebook group.
She made the first checkpoint at Porthleven pretty much bang on target. From this point onwards Wendy would be running into nightfall so the head torch came out.
From here Wendy made her way to Penzance. A change in foot wear from trail shoes to road shoes was made to run on the tarmac.
Wendy had to ask for medical attention. The two-and-a-bit-hour drive to the race, plus the one-hour coach drive to the start line had aggravated her lower back!
At various points along the trail she found herself scrambling over rocks and trying not to get her feet wedged between them on the descents. Wendy took the wrong path three or four times, but it did not take too long to retrace her steps and get back on course.
Although Wendy spent nearly 13 hours moving in the dark, the time flew by as there was lots to focus on with the tricky underfoot conditions.
Wendy got into Lands' End around 5.20am on Saturday morning and she saw the sunrise as she came into Cape Cornwall at 8am.
She had an hour to get to Pendeen Lighthouse for 9am, only four miles away. However, given the pace she was now moving at and the discomfort she was suffering due to her back, Wendy decided to call it a day.
She commented: 'Although I would have loved to have completed this race, today was not the day.'
Despite not finishing, Wendy was pleased to have completed 66 miles in a time of 20:00:30, which was the furthest distance she had ever travelled in one go by foot.