Charlie's back from the school of hard rocks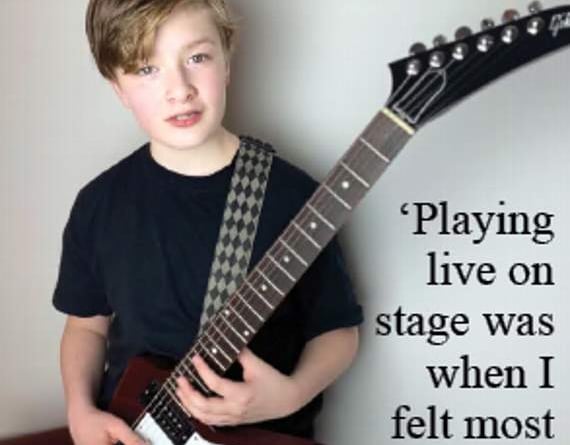 Subscribe newsletter
Subscribe to our email and get updates right in your inbox.
THE Boy is Back in Town... young Charlie Churchill is in the classroom once again, just like the rest of his schoolmates.
But Charlie, from Bovey Tracey, still remembers the time he was in a different type of school – one on the London stage.
The 12-year-old Teign School student landed a leading role in Andrew Lloyd Webber's School of Rock The Musical, in 2019, which was staged at the Gillian Lynne Theatre in Covent Garden.
Charlie explained: 'School of Rock opened in London in 2016 and ran for three and a half years. They had a cast change every six months and I was in cast seven.'
Axeman Charlie was given a stand-out part. He said: 'I performed the role of Zack Mooneyham in 86 performances and was on standby backstage for the same amount.  
There were three children's teams, acoustic, bass and electric. One team would be on their week off and the other two teams would rotate between performing and being on standby backstage for eight shows a week.
Charlie's last performance in School of Rock the Musical was the final show on March 1, 2020, so he was able to complete his entire contract before the coronairus restrictions came into play.  
Since being back home Charlie has continued with his musical education, getting guitar lessons from Bovey Tracey music teacher Mike Cosgrave.
'He's awesome,' said Charlie. 'He has taught me since I was six years old and coached me through all of my guitar examinations from Grade Debut to Grade 8. I definitely wouldn't have achieved what I have without him.'
His guitar heroes are Slash, Angus Young and Jimi Hendrix.
'My favourite band changes all the time but at the moment I'm listening to a lot of AC/DC and Red Hot Chilli Peppers.'   
Dad Craig and mum Fay praised Charlie, saying: 'He has worked incredibly hard throughout the multiple lockdowns and achieved a Grade 7 (Distinction – 93 per cent) in lockdown 1 and Grade 8 (Distinction – 96 per cent) in lockdown 3 – less than a year since leaving the show.
'We are super proud of everything he has achieved.'
The guitar prodigy's first perfomeance on the London stage was nerve-racking to say the least. 'There was so much to remember and I was worried I would forget something and go wrong,' he said.
'After I got the first show right I still got nervous but I knew I could do it and that helped a lot.
'My favourite part in the show was all the scenes when I played the guitar live – that is when I felt most at home on stage.'  
One abiding memory was New Year's Eve 2019. 'Noel Sullivan was playing the lead role of Dewey Finn and we ended the show with a rock version of Auld Lang Syne. The whole audience were singing and linking arms – it was an amazing atmosphere.'
After some performances the young cast would be asked to have their photographs taken with celebrities who had watched the show.
Charlie said: 'The most famous person I met was definitely the composer of the show Andrew Lloyd Webber. I met him at the start of my contract in rehearsals and I was on stage with him in the last show finale when all seven previous children's casts returned to perform for one final time in the Gillian Lynne Theatre.'    
Settling back into the routine of normal life in Bovey Tracey and as a student in Kingsteignton has been an easy matter.
The young musician had already been having remote teaching while in London so he was better prepared than most for the lockdown online learning experience.
Appearing on the London stage has only made Charlie even more determined to make a living in showbiz.
'My dream is to become a professional musician – I can't imagine doing anything else.  
'I'm planning to take my music theory examinations this year and I'm starting to learn the piano and mandolin.  
'Once lockdown is over I'm hoping to start playing live in a band and getting as much experience as I can.'