Good neighbours saved pensioner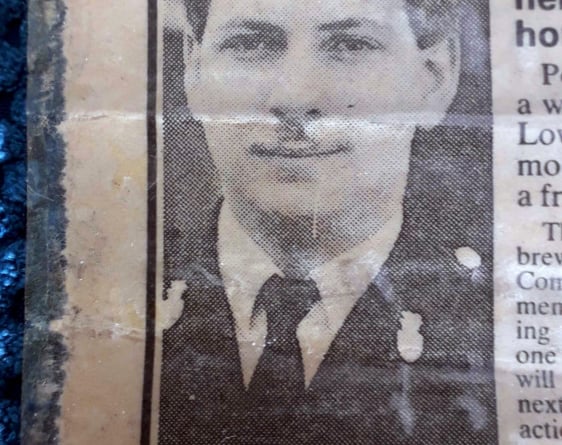 PC Mark Wherry.
Subscribe newsletter
Subscribe to our email and get updates right in your inbox.
Veteran journalist John Ware who hung up his pen a couple of years ago, recounts some of the more memorable stories he covered during 60 years on the Teignbridge beat for locals and nationals.
ALERT neighbours saved the life of an 80 year-old woman found dying in the cold in December 1986.
Police had to smash in a window at Mrs Evelyn Lowe's home in Teignmouth to save her from a freezing death.
She had collapsed, had been lying helpless for at least 24 hours, and was close to dying from hypothermia.
But instead she recovered in hospital, thanks to caring neighbours who were worried because they had not seen her for two days.
Police praised their actions and appealed to everybody to keep an eye on elderly people living alone over the Christmas period.
The drama over Mrs Lowe began when neighbours on either side of her cottage in Landscore Road became concerned after seeing milk still on the doorstep.
The police were called and within minutes were on the scene.
There was no reply from knocks on the door, so they smashed a rear window to get in.
PC Mark Wherry discovered her lying on the living room floor.
'She was conscious, but confused. I think she had a fall and then could not get up again,' he said.
'There was no heating on in the house and she was extremely cold. I do not think she could have lasted much longer. She must have been lying there for at least 24 hours.
'The neighbours did absolutely the right thing. If somebody is worried about an elderly neighbour, they should contact the police right away. We would much rather go and make a check, even if it is a false alarm.'
Mrs Lowe was taken to Torbay Hospital by ambulance, and her son in Gloucestershire was informed, and travelled to see his mother.
One of the neighbours, Dorothy Babbage, who is also 80 and said: 'I usually see her every day at the back and we have a chat. But when I did not see her for two days running and the milk was still outside, I was worried.
'So I told a man on the other side and he thought it was best to tell the police. I'm glad he did.'
Another neighbour, Ruby Smith, agreed, and added that many people saw bottles of milk and newspapers piling up, but did nothing about it.
Comments
To leave a comment you need to create an account. |
All comments 0